G-20 police planning a puzzle for Pittsburgh chief
---
By Joe Mandak
Associated Press
PITTSBURGH — Security planning for the Group of 20 economic summit in Pittsburgh is a numbers game driven by questions that can't readily be answered: How many police officers will be needed for thousands of protesters and how many arrests can be safely and fairly processed in courts?
Police Chief Nate Harper asked 100 U.S. police departments for manpower because he wants 4,000 officers and the city has fewer than 900, though Harper has about doubled that with commitments from regional agencies.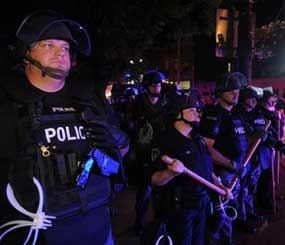 Yet most plans to safeguard the international gathering Sept. 24-25 at the city's convention center remain highly secretive and in flux - as intelligence and other factors change. Each new answer, it seems, begets another question.
For example, Harper says his 4,000-officer estimate depends on the yet-to-be-determined security perimeter. U.S. Secret Service agents will visit next week to begin that process.
Harper must also house the reinforcements, possibly in officers' homes, nearby military bases or a "tent city." Harper assumes he'll get federal funds, but he can't guarantee that.
Washington, D.C., is sending a police consultant on crowd control and First Amendment demonstrations, said D.C. Assistant Chief Patrick Burke.
The district doubled its 4,000-officer force with outside police for President Barack Obama's inauguration, which drew 1.8 million people. The extra officers were used mostly for crowd control, Burke said. Washington's G-20 gathering in November was uneventful, even without extra police, he said.
"Even when there are crowds for demonstrations, you have to keep in mind people's First Amendment rights. You have to balance that with the need for security," Burke said.
Seattle's retired police chief, Norm Stamper, said Harper's estimate of 4,000 officers shows Pittsburgh has learned from rioting outside the 1999 World Trade Organization meetings.
"We didn't have nearly that many officers and that was a huge problem," Stamper said.
Stamper had about 900 officers plus brass and detectives who hadn't done street duty in years and a few hundred from outlying departments.
But the Seattle police weren't mentally prepared for violence despite problems at a WTO event in Geneva months before.
"We naively assumed this was a European phenomenon, and that we had not seen that kind of violence in this country since the anti-war movement of the 1960s and 1970s," Stamper said.
In Seattle, police arrested about 500 protesters out of an estimated 50,000 that descended on that city for the WTO meeting. That included 175 people who sued for wrongful arrest, saying they merely staged a peaceful protest in an area deemed a "no protest zone" by the police. The city's insurance carrier settled those claims for $1 million.
Organizers in Pittsburgh have said only that several thousand protesters are expected in September.
Advocates for the protesters have already told city officials that outfitting police in riot gear would fuel violence. Mayor Luke Ravenstahl has said he wants to prevent problems by meeting beforehand with protest groups.
Stamper found out that's no guarantee.
He said he even mapped out plans for protesters to get TV face time as they were arrested, but anarchists still hurled bricks then blended into crowds by pushing baby carriages or wearing costumes. That prompted the decision Stamper most regrets, firing tear gas that he says escalated the melee.
"Philosophically, if I need to be pigeonholed, I would be on the side of those who opposed the WTO," Stamper said. "But, I'm sorry, you can't throw a brick to send that message."
Harper says police should arrest only those who threaten health and safety.
Allegheny County plans to process arrestees at its family law center - the former county jail with room for about 250 prisoners.
"We're going to be preparing for, obviously, mass arrests," court administrator Ray Billotte said. "We hope it doesn't come to fruition, but if it does we'll be prepared."
Copyright Associated Press. All rights reserved. This material may not be published, broadcast, rewritten, or redistributed.