La. deputies concerned over privatization of off-duty details
Some deputies are upset about a private company that is taking over the administration of off-duty security details
---
By Matt Sledge
The Advocate, Baton Rouge, La.
NEW ORLEANS — Some Orleans Parish Sheriff's Office deputies are up in arms about a private company that is taking over the administration of off-duty security details, a major source of income for jail guards who have long been poorly paid.
The court-appointed administrator for the Sheriff's Office signed a no-bid contract with a Georgia-based company called U.S. Security Associates on Dec. 15 to privatize the management of the off-duty details, in which deputies work after hours as security guards for restaurants, convenience stores and other businesses or events.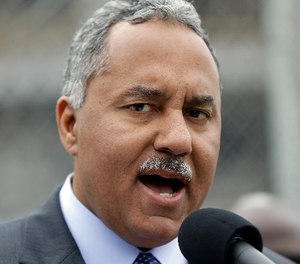 The Sheriff's Office says it already has begun implementing the plan. Seventeen work sites are under contract with U.S. Security Associates, and remaining contracts are supposed to be finalized by the end of the month, officials said.
Three deputies speaking on the condition of anonymity said there is significant concern about how U.S. Security Associates will administer the program, and how much of a cut the company will take from the deputies' detail pay. Some have privately talked about quitting over the new arrangement.
The company did not respond to a request for comment.
Off-duty details have long been a flashpoint for internal politics at the Sheriff's Office and other local law enforcement agencies. Federal investigators once called private details an "aorta of corruption" at the New Orleans Police Department before reforms began in 2012.
Meanwhile, Sheriff Marlin Gusman's right-hand man, Gerald "Jerry" Ursin, pleaded guilty in 2016 to wire fraud in connection with an off-duty detail scheme in which he charged private businesses for "ghost" deputies who did not actually show up.
One of jail administrator Gary Maynard's goals in privatizing off-duty details is to avoid such scandals in the future. Yet his decision to outsource the details' management has caused widespread concern among deputies, who are uncertain how they will be assigned to details in the future.
In an interview last week, Maynard said there was a "lot of misinformation" being passed around, in part by the current Sheriff's Office detail coordinators who stand to lose some of their business to the outside company.
Maynard said he believes U.S. Security Associates will take between $8 and $13 per hour worked by the deputies. The higher number is close to what some deputies make in an hour while working their regular shifts for the Sheriff's Office.
Maynard maintained that none of the money will be taken out of the deputies' paychecks.
"When everybody finds out the information and facts, everybody seems to be more satisfied with it. The deputies will not lose anything; they will benefit," Maynard said. The money for U.S. Security Associates "comes from the vendor, from the place that they're working for."
Another concern among deputies is that if the company raises rates to compensate for its overhead and provide itself a profit, some businesses will shift to contracting details with off-duty New Orleans Police Department officers or private agencies. That would translate into less work overall for the deputies.
Maynard dismissed those claims. He said the initial response to U.S. Security Associates, which already handled Sheriff's Office details at Walmart stores, has been positive. A large number of businesses have signed up for off-duty details under the new arrangement, he said.
Deputies also have questioned what benefit the privatization will provide to them. In a separate interview, Blake Arcuri, the general counsel for the Sheriff's Office, ticked off a list of what he said were positives for the deputies.
While working off-duty details, the Sheriff's Office deputies technically will be employed by U.S. Security Associates. Arcuri said the company will automatically withhold taxes as well as provide liability insurance and worker's compensation, all services that are not ordinarily provided by the Sheriff's Office.
Arcuri said the Sheriff's Office will benefit from improved accounting and oversight. He said he believes the private company will be in a better position to track whether deputies are eligible to work details — including whether they have been suspended from regular work — and to track the $1 an hour that the Sheriff's Office claims from off-duty details.
U.S. Security Associates has agreed to provide coverage for any legal liability, for instance if a deputy is sued for their actions on a detail.
No bidding process was used for the contract with U.S. Security Associates, Arcuri said, "as this is a contract for services. Louisiana law requires use of the (request for proposals) process for procurement, not for service contracts."
The Sheriff's Office is not obligated to pay the company any money under the contract because U.S. Security Associates will earn money from the deputies' details.
The surest test of the new off-duty detail program could come as Carnival season shifts into high gear. That is typically a time when deputies' labor is in high demand for both public parades and private parties.
Meanwhile, a recent pay raise could soften the blow — if there is one — from the privatization deal. The Sheriff's Office implemented a $2,000 annual pay raise on Jan. 5 and will add another $1,500 in base pay on July 1.
Those wage hikes mean that by the end of the year, a deputy's base pay will rise to $29,500. The federal poverty level for a family of four last year was $24,600.
Furthermore, deputies who qualify for state supplemental pay will receive an additional $6,000 annually, boosting their pay to $35,500. And the deputies are expected to receive an additional $3,500 pay increase in January 2019.
©2018 The Advocate, Baton Rouge, La.
McClatchy-Tribune News Service