Mass. officer's assist involved 'Blood, Sweat & Tears'
Sturbridge police Sgt. Kevin Mercier met members of the '60s rock band when he saw a bus struggling through the snow
---
Associated Press
STURBRIDGE, Mass. — A Massachusetts police officer who helped a stranded bus through the snow had no idea it would involve Blood, Sweat & Tears.
Sturbridge police Sgt. Kevin Mercier met members of the '60s rock band Saturday when he saw a bus driver struggling as a snowstorm blanketed the region. Mercier stopped traffic and helped direct the bus as it backed down a street. The band was staying at a Sturbridge hotel between shows in Hartford and Boston.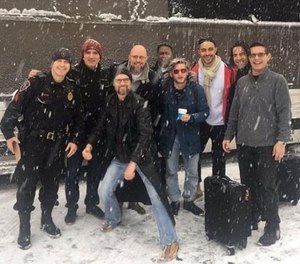 The band is touring with singer and American Idol alum Bo Bice as lead singer.
Mercier told the Worcester Telegram & Gazette that he didn't immediately recognize the band, but a quick Google search helped refresh his memory of its hit songs, which include "Spinning Wheel" and "You've Made Me So Very Happy."
___
Information from: Telegram & Gazette (Worcester, Mass.), http://www.telegram.com
Copyright Associated Press. All rights reserved. This material may not be published, broadcast, rewritten, or redistributed.