NYPD, mayor criticize DA's policy to not prosecute fare beaters
Mayor Bill de Blasio and the NYPD said Manhattan District Attorney Cyrus Vance Jr.'s policy encourages lawlessness and is unfair to law-abiding straphangers
---
By Anthony M. Destefano
Newsday
NEW YORK — Mayor Bill de Blasio and the NYPD on Tuesday strongly criticized Manhattan District Attorney Cyrus Vance Jr.'s policy of not prosecuting certain subway fare-beating cases, saying it encourages lawlessness and is unfair to law-abiding straphangers.
"Fare evasion is not acceptable and we cannot create a situation where people think it is acceptable," de Blasio told reporters, with police Commissioner James O'Neill at his side, at a news conference.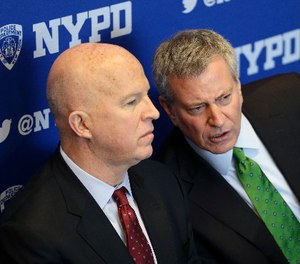 "It is not fair to everyone else who is paying their fare . . . if some people think they can waltz on in without paying," de Blasio said.
DeBlasio and O'Neill were reacting to Vance's recently enunciated policy of declining to prosecute simple fare-beating arrests, except those involving people who had open warrants or were carrying weapons or contraband. When prosecution is declined, offenders will be given a ticket to appear in civil court, according to Vance's office.
During the monthly NYPD crime briefing Tuesday, O'Neill said he and Vance's office differed over the kinds of people considered a "public safety threat" that should be prosecuted when they were caught turnstile jumping.
O'Neill noted that over the weekend Vance's office declined to prosecute at least two fare-beating cases, including that of a man with 52 arrests, 30 of which were transit related. Police discovered that in five fare-beating cases over the weekend in which prosecutions were declined that two of the suspects cut free by prosecutors had open warrants — one for a drug sale and another for a parole violation — said a law enforcement source who didn't want to be identified.
However, a spokesman for Vance said the individuals were in fact brought to court on the open warrant cases, although the fare-beating charge was declined.
O'Neill indicated police considered fare beaters to be a public safety risk if they had numerous arrests, including those for robbery, larceny and repeated fare-beating offenses. Vance, in a Feb. 5 letter to Metropolitan Transportation Authority chairman Joseph Lhota — also an opponent of the prosecutor's policy — said two-thirds of people arrested in Manhattan for fare beating had "no prior convictions." Most of those arrestees were given almost no criminal penalties after they pleaded guilty, Vance told Lhota.
Vance also told Lhota that under criminal court procedures no restitution was imposed on fare beaters and the public paid costs associated with processing the arrest and arraignments in court.
A quick survey of other, smaller subway systems in the United States found that Washington, D.C. was considering decriminalizing fare beating on its Metro while in Boston fare evasion was subject to civil fines.
NYPD officials noted that 75 percent of the 33,000 fare evading stops by police last year were downgraded to civil summonses, with 8,000 arrested.
©2018 Newsday
McClatchy-Tribune News Service