Ohio sheriff won't stop playing with newly-acquired UAV
When Sheriff Beliebt demonstrates his mastery of the newly acquired UAV through its paces, he draws cheers
---
Editor's Note: Before you start writing any angry emails, please note the date of publication - April 1. We hope you enjoyed all of our April Fool's coverage. You can check them all out, here.
By PoliceOne Staff
EIERHEART, Ohio —  Sheriff Ronald "Roy" Beliebt has come under criticism by numerous elected officials and local media for misappropriating department resources in the past, but the latest scandal may end up being the final straw for a city government that has been trying for years to get rid of the popular Sheriff. 
Beliebt has reportedly been "playing" with the agency's newly acquired Unmanned Aerial Vehicle (UAV) for hours at a time in various locations throughout the county. The UAV has been spotted almost every single day, hovering above area shops, local parks, and other places where there is ample open space to fly the craft without crashing into nearby buildings.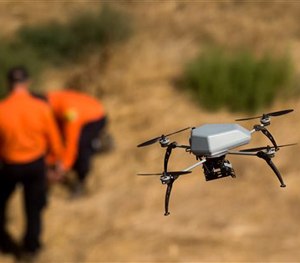 "This is very important training," Sheriff Beliebt told PoliceOne while he toggled the UAV controls to level the craft out at 100 feet above a small herd of cattle on the Double F Ranch. "We have just acquired this essential equipment and we have to familiarize ourselves with it. Like any new tactic or tool, repetition is the key for making sure we are proficient in our service to the citizens of Eierheart County."
Sheriff Beliebt has obviously been training, because his mastery of the small, four-rotor unit almost reaches airshow performance crispness, and when the sheriff puts the UAV through its paces, he frequently draws a cheering crowd. 
"These demonstrations also fall under our 'Community Policing' initiatives," Beliebt said. "Look around, there must be 100 people watching that awesome little aircraft right now."
"I will grant you that Beliebt is incredibly popular with the voters and the citizens," said Mayor Ed Rahatsız-Edici. "But his childlike behavior makes our entire region appear to be out of control. We are trying to attract companies to open up manufacturing facilities and other business in the area, and the top law enforcement official is flying remote control helicopters, riding around on the search-and-rescue ATV, and organizing crazy events utilizing public property." 
Rahatsız-Edici was referring to an incident last May, when Sheriff Beliebt announced a "Kentucky Derby" funding drive that would allow citizens to place bets on an unsanctioned race among the agency's equine unit. All four horses and the officers who ride them were fully outfitted in racing silks for the promotional poster, and some bets had already been placed when Mayor Ed Rahatsız-Edici shut the program down. 
Rahatsız-Edici personally donated more than $100,000 to the campaign of a local man who had the audacity to run against the seven-term incumbent Sheriff. In November, Beliebt defeated Duncan Patlama in an electoral landslide.