Wayland Baptist University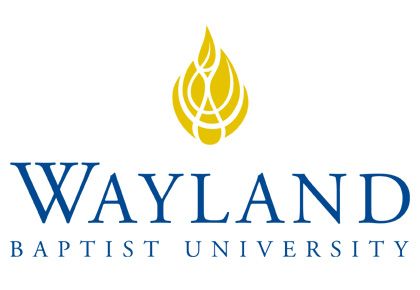 Wayland Baptist University was established in 1908 with the belief that higher education should be accessible to all, and that it should be grounded in faith in Christ. WBU began working with law enforcement members in 1972, allowing them to continue to work while completing their degree. Today, we continue to make education possible for working adults by offering a very robust array of fully online programs, including both undergraduate and graduate degrees. As a Christian university, our first goal is to honor God in all that we do. As a private, non-profit institution, our first goal is to equip you with the tools you need to reach your full potential, whether that be advancing in your current career, changing careers, or completing a degree to inspire others to never stop improving. Whatever your goal, Wayland can help you get there.
Learn more about Wayland Baptist University's Law Enforcement Scholarship and Academic Program.
Program Offerings
We know it's hard for law enforcement officers to balance life, work and family. Throw college in the mix and it may seem impossible! If only there were a way to shorten your time to a degree, take classes when it works for you, and have help paying for it all, wouldn't that be great? All of those things are waiting for you at Wayland!
Our goal is to make higher education affordable and make it work with your schedule. By receiving academic credit for work experience (up to 12 credit hours), police academy training (11-34 credit hours, based on state requirements), previous college experience, military experience, and other specialized training, you will be closer to a degree from the moment you walk in the door than you ever thought possible!
Combine that with all of our undergraduate BAS degree options and a wealth of master's degree options being available completely online during short, 11-week terms, and you're almost there.
Add to that a scholarship that helps you pay for the remainder of your degree and there aren't any more obstacles in the way! The time is NOW to start or start back to college, complete your degree, earn that promotion, raise, or whatever you've been wanting to accomplish.
Wayland makes that possible right now. Plus, this scholarship is also available to spouses and dependent children!
Scholarship details:
Officers and spouses pursuing a bachelor's degree may enroll in 9 or more credit hours (full-time status) during our 11-week terms and receive $1,000 per term. If being full-time is too much with the rest of life going on, don't worry. Enroll in 6 credit hours and receive a $500 scholarship. The goal is to keep moving forward, and we're going to help you do that. Officers and spouses pursuing a graduate degree must reach full-time status, which is 6 hours per 11-week term, and 9 hours per 16-week term to receive $1,000.
Dependent children will qualify for $1,000 based on full-time enrollment at any of our campuses or online.
All Students must meet admission requirements and be fully accepted to WBU before scholarship can be applied.
Law enforcement employees must have completed POST-certified academy, and be currently employed in a paid position that requires that certification to be maintained.
Law enforcement employees must show proof of current law enforcement employment at the beginning of the first enrolled term, and then the beginning of each academic year after that. For spouses and children, proof of spouse or parent employment will be required following the same format.
The scholarship may be applied to tuition, fees, books, dorm costs and meal plans, depending on campus choice.
In order to use the scholarship for books, students must order their books through a Wayland bookstore and charge the amount to their student account.
Learn more about Wayland Baptist University's Law Enforcement Scholarship and Academic Program.