Ore. cop shot responding to fire succumbs to wounds
Robert Libke, 41, was shot in the head when he confronted an armed man with a history of domestic disputes
Duty Death: Robert Libke - [Oregon City, Oregon]
End of Service: 11/04/2013
---
Associated Press
OREGON CITY, Ore. — Police said Monday that they believe an 88-year-old man set fire to his house, fatally shot a volunteer reserve police officer and then was killed by a SWAT team.
The Oregon City police officer, Robert Libke, 41, was taken to a Portland hospital after the confrontation Sunday. Police disclosed Monday that he had died.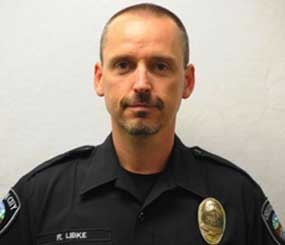 Authorities identified the suspected gunman as Lawrence Cambra, who was one of two residents of the burned home. A woman who also lives there was uninjured, said Sgt. Dan Kraus of the Clackamas County sheriff's office.
Investigators are still trying to determine a motive, but they don't believe the fire was intentionally set to lure police into an ambush, Kraus said.
The Oregonian reported that Cambra has a history of domestic disputes.
Police and firefighters were dispatched to Cambra's home after reports that it was burning. The reports said a man on the scene had a handgun.
Libke and a regular deputy were first on the scene. Police say Cambra confronted Libke and then shot him. Officers surrounded the area, and neighbors and firefighters were evacuated.
Josh Wenzel, who lives across the street, told The Oregonian that he saw smoke billowing from his neighbor's house about 1 p.m. He saw the home's resident, an older man whose name he didn't know, go back in. Wenzel said he went to the man's house to try to find him, but didn't get far before a chunk of ceiling fell and the carpet caught fire.
Wenzel saw him come out of the garage, his hair singed and his white T-shirt black with soot.
"He didn't seem to be in his right mind," Wenzel said. "He wasn't frantic or worried."
He saw the man had a gun and sprinted away. He later saw an officer, with his gun at his side, yelling at the man to drop his weapon. Wenzel heard a shot and saw blood spurt from Libke's forehead.
Libke is one of about 10 reserve officers who volunteer to augment regular staffing levels for the Oregon City police. Reserve officers complete an Interagency Police Academy in Clackamas County.
Neighbors told The Oregonian that Libke's wife was pregnant. They said he started a neighborhood watch group in his Southeast Portland neighborhood.
"Oh my God, my heart's just breaking," neighbor Ed Neuman said. "He's a good man. I'm just going to pray for him and his wife."
Copyright 2013 The Associated Press
Copyright Associated Press. All rights reserved. This material may not be published, broadcast, rewritten, or redistributed.