Deputy wounded in Baton Rouge ambush returns to work
Bruce Simmons was shot on July 17, 2016, when Gavin Long ambushed police, killing three and injuring three others
---
By Emma Discher
The Advocate
BATON ROUGE, La. — On his first day back at work after a year of recovering from a gunshot wound, East Baton Rouge Parish deputy Bruce Simmons thought he was asked to attend the swearing-in of new deputies to give them advice, but instead he was surprised to find out he was being promoted to lieutenant.
Simmons was shot in the arm July 17, 2016, when Gavin Long, of Kansas City, Missouri, ambushed a group of law enforcement officers, killing three and injuring three others, including Simmons.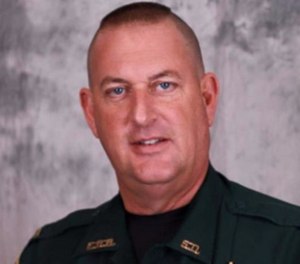 After a year of recovering from the wound, Simmons returned to work Thursday to a standing ovation, many hugs and dozens of well wishes from his colleagues that he calls family.
"I had no idea I was being promoted to lieutenant so it's very emotional for me," Simmons said. "I had no idea that they were even thinking about something like this. It's just a great day all the way around."
Sheriff Sid Gautreaux recognized Simmons' return during the swearing-in of 17 new deputies, other promotions and a few special awards for exceptional service at the Parish Prison chapel. More than 100 deputies and well wishers were on hand for the ceremony.
Gautreaux told the crowd that Simmons fought hard to be able to return to work after the shooting.
"Before Bruce ever got out of the hospital he told me, 'Sheriff, I'm going to be back.' He has fought and he has fought hard to get back to where he is today," Gautreaux said.
Simmons was shot in the left arm above the elbow.
"It's not been easy," Gautreaux said. "Many of you saw the x-rays that I saw. … From what I saw in his shoulder and arm, I would have thought there's no way that he's going to come back."
The bullet shattered the bone in Simmons' arm, leaving him with no bone connecting his upper arm to his lower arm. Doctors put a titanium rod in his arm to connect the bones, but shrapnel still remains under the skin.
Though his arm is not yet 100 percent recovered, Simmons said the injury is healed and he is working now on regaining his strength.
Simmons will have a few days of retraining and re-qualifying with firearms that all deputies must complete annually before he will resume his duties in the motorcycle section of the Traffic Division.
While he was recovering, Simmons said he missed his motorcycle, which he should get back next week, and the people he works with the most.
"Law enforcement is a family," Simmons said. "You need that interaction with all the people you work with and the public."
When asked what advice he would give to the 17 new hires, Simmons echoed Gautreaux's advice of adhering to the golden rule: treat others as you would like to be treated.
"It's a great profession just like the sheriff said and you get out of it what you put into it," Simmons said. "If you treat people the way you want to be treated, and I look at it the way you would want your mother or family to be treated, you'll never have a problem."
Both Gautreaux and Simmons recognized deputy Nick Tullier. Simmons and Tullier were together on that Sunday morning a year ago, having breakfast at a restaurant on Airline Highway when they learned of the ambush. Both men responded. Tullier was seriously wounded in the shooting and is undergoing rehabilitation at TIRR Memorial Hermann hospital in Houston.
Killed in the ambush were deputy Brad Garafola, and Baton Rouge police officers Montrell Jackson and Matthew Gerald. Long was also killed by Baton Rouge police.
"Continue praying for Nick Tullier," Simmons said. "That's my inspiration. He's fighting every day. I would pray that he would be able to come back and do this one day."
———
©2017 The Advocate, Baton Rouge, La.
McClatchy-Tribune News Service