Fallen Ohio officer honored for line-of-duty death 87 years ago
Officer Claude McCormick will be honored on the national memorial in Washington, D.C.
---
Wayne Baker
Dayton Daily News
OAKWOOD, Ohio — Oakwood officer Claude McCormick will be honored as a fallen police officer 87 years after an accident in the line of duty that led to his death in 1933.
His death is the only line-of-duty death in Oakwood history, according to the Oakwood FOP Lodge 107, which researched McCormick's passing.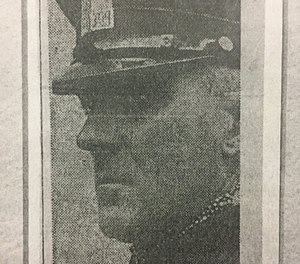 "We also realized that he was never recognized for dying in the line of duty, but now he will be added to the national memorial," officer Greg Ortel told the Dayton Daily News.
McCormick is scheduled to have his name added to the National Fallen Officers Memorial in Washington, D.C., on May 13, thanks to members of the lodge, who discovered the oversight last year.
"As we speak, they are likely etching his name on the memorial," Ortel said, as he shared information on the research that led to the overdue honor being bestowed upon McCormick.
The research into McCormick's life and passing revealed that he was born on August 15, 1895, in Atlanta, Mo., and enlisted in the Army to serve in WWI. He served in the Army from 1917 to 1919.
After being discharged, McCormick settled in Dayton with his wife Anna in 1920. He joined the Oakwood Public Safety Dept. in 1929 and served as a motorcycle patrolman for 4 years.
On August 29, 1933, McCormick, 40, was involved in an on-duty accident on Far Hills Avenue at Harman Avenue. He received first aid at the scene and returned to his home to rest, which was located at 105 Patterson Avenue.
According to reports, he fell unconscious and was taken to Miami Valley Hospital, where he passed away at 11:25 p.m. later in the day. Archived reports indicate that he talked with fellow officers after the incident before going home.
A blood clot on his brain was believed to have caused McCormick's death. A public viewing was held in Oakwood for the fallen officer, and he was buried in Leavenworth, Kan.
He was survived by his wife and his mother, Mollie.
Ortel said that members of the Public Safety Dept. and lodge felt it was their obligation to make sure that the ultimate sacrifice made by a fellow officer was not forgotten and his line-of-duty death was properly recognized.
The Oakwood Historical Society also helped in conducting research into McCormick's time in Oakwood and his life story, while also locating a photo of the officer from the time he served the city.
The National Law Enforcement Officers Memorial is in the 400 block of E Street, NW, Washington, DC and is the nation's monument to law enforcement officers who have died in the line of duty. Dedicated on October 15, 1991, the Memorial honors federal, state and local law enforcement officers who have made the ultimate sacrifice while serving the public.
Carved into the walls of the monument are the names of more than 21,000 officers who have been killed in the line of duty dating back to the first known death in 1786. New names of fallen officers are added to the monument each spring, in conjunction with National Police Week.
McClatchy-Tribune News Service