Former Fla. officer stops fleeing hit-and-run driver
The former officer cut in front of the vehicle, stopping it from fleeing a crash scene that left a person critically injured
---
Patricio G. Balona
The News-Journal, Daytona Beach, Fla.
ORMOND BEACH, Fla. — An Ormond Beach resident said he ran a hit-and-run driver off the road Monday afternoon by cutting in front of the vehicle, stopping it from fleeing a crash scene that left one person critically injured.
Reached by telephone the resident, who said he was a former police officer, did not want to give details of the incident. He did say the crash is under investigation. He asked that his name not be used.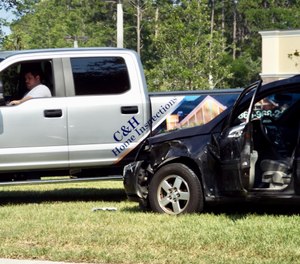 "I don't want the glory," he said. "I feel for the victims of the crash, that's how I feel about it."
Authorities said the crash, reported as a "motor vehicle accident, major," occurred around 3:40 p.m. in front of Lowe's on Granada Boulevard at Seminole Drive in Ormond Beach.
Witnesses said that a black Chevy vehicle involved in the crash tried to flee from the scene but a truck from C & H Home Inspections forced it off the road onto the grassy median.
At the scene, at least 100 feet east of the crash, the large gray Ford C & H truck could be scene at an angle in front of the black Chevy, with the driver sitting on the back bumper. The Chevy had a heavily damaged front.
Paramedics responding to the scene said an adult was taken as a trauma code to the hospital.
At the scene, Ormond Beach police were seen conducting a traffic homicide investigation.
Ormond Beach police spokesman Keith Walker did not return calls inquiring about the crash.
———
©2019 The News-Journal, Daytona Beach, Fla.
McClatchy-Tribune News Service