Ga. LEO fakes traffic stop to pop the question
Keeping with the cop theme, they plan to get married on Oct. 4: 10-4
---
J.D. Capelouto
The Atlanta Journal-Constitution
DEKALB COUNTY, Ga. — Do you know why I pulled you over? Can I see your license and registration? Will you marry me?
Those questions don't usually go together. But DeKalb County Police Department Officer John Heart wanted to give his girlfriend Alexis the surprise of her life when he pulled her and her friend over in Lawrenceville on Tuesday.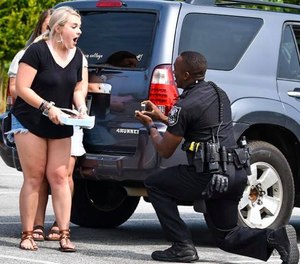 Alexis' friend was driving the car and was in on the plan for Lawrenceville police to pull them over, according to a Facebook post from the Gwinnett County Sheriff's Office.
When Alexis got out of the car, she was shocked to see Heart get down on one knee and pop the question. 
"We're pleased to announce she said YES and wish the happy couple all the best as they plan their wedding and embark on married life," the sheriff's office wrote.
Keeping with the cop theme, they plan to get married on Oct. 4: 10-4.
———
©2019 The Atlanta Journal-Constitution (Atlanta, Ga.)
McClatchy-Tribune News Service