'Good Samaritan' killed in Texas mall was getting wedding bands cleaned
"Jon, the protector, lost his life making sure nobody else did"
---
By Tyler White
San Antonio Express-News
SAN ANTONIO — A 42- year-old "Good Samaritan" who was shot and killed in Sunday's deadly Rolling Oaks Mall shooting has been identified by the Bexar County Medical Examiner's Office.
The medical examiner's office confirmed Jonathan Murphy died Sunday, but did not have a cause and manner of death available.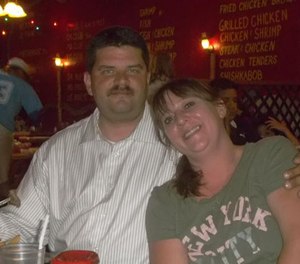 SAPD Chief William McManus told mySA.com Sunday that a fatality occurred at the Kay Jewelers at the Rolling Oaks Mall after two men entered the store with guns and tried to rob the store.
"There was a fatality," McManus said. "One of the citizens who tried to intervene and stop the robbery, the robbers from escaping, was shot by one of the suspects."
McManus and SAPD spokesman Sgt. Jesse Salame said that two citizens intervened in the robbery and one of the suspects was shot by one of those citizens, a man with a concealed carry license. Police have yet to identify whether Murphy was one of those citizens, but they were called "good Samaritans."
According to a GoFundMe page set up to rally funds for Murphy's family, Murphy and his wife Aimee went to the store to get their wedding rings cleaned. While there, the shooting occurred and "threaten the safety of Jon's wife and everyone else."
"Jon, the protector, lost his life making sure nobody else did," the GoFundMe page said.
Murphy loved Harley Davidson motorcycles, the Marine Corps, and "being a good man."
Three other people were injured from gunshot wounds during the attempted robbery, according to previous reports. Those gunshot victims, along with one of the alleged armed robbers, were transported to San Antonio Military Medical Center for treatment. The alleged shooter was taken to the hospital in critical condition, according to a previous report.
A second alleged armed robber was caught by Converse Police late Sunday. He has been identified as 35-year-old Jason Matthew Prieto.
The man faces charges of capital murder and aggravated robbery, and is being held on a $1.7 million bond, police said.
Police have yet to release more details on the incident but this story will be updated as soon as more information is available.
___
(c)2017 the San Antonio Express-News
McClatchy-Tribune News Service