Here are your 2014 RISE Award winners
Congratulations to Agent Mike Spadafora, Sgt. Christopher Gavette, and the Lakewood (Wash.) Police Department for winning the first annual TASER and P1 RISE Awards
---
Editor's Note: Thank you to everyone who participated in our first ever RISE Awards. The nomination process brought many officers and agencies to our attention worthy of commendation, including the officers of the St. John Police in Kansas, the Bellefontaine Police in Ohio, Corpus Christi, Texas officer Amador Gonzalez, and Officers Irving and Pope of West, Texas.
TASER and PoliceOne are very pleased to announce the winners of the first ever RISE Awards: Agent Mike Spadafora, Sgt. Christopher Gavette, and the Lakewood (Wash.) Police Department.  
The RISE Awards exist to shine a much-deserved light on the countless positive stories within law enforcement across North America. Officers go above and beyond the call of duty on a daily basis with little-to-no recognition, and this award program gave us the opportunity to feature a few incredible departments – big and small – for their continued efforts to make their communities safer and to grow trust in law enforcement at a time when it's needed most.
We were floored by the response to the Awards, which struck a chord with a law enforcement audience tired of reading negative news about their profession. We received more than 150 qualified nominations highlighting outstanding officers and agencies nationwide, each representing heroic achievement and worthy of commendation.  
After thoroughly reviewing all of the nominations, the following winners were chosen for the RISE Awards' three categories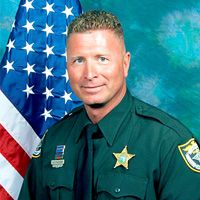 Agent Mike Spadafora. (Photo courtesy Brevard
County Sheriff's Office)
Protect Life Award: Agent Mike Spadafora of the Brevard County Sheriff's Office in Rockledge, Fla. wins the Protect Life Award for his years-long dedication to fighting child exploitation cases.
As part of the Internet Crimes Against Children's (ICAC) Task Force and the Brevard Child Exploitation Task Force, Agent Spadafora goes undercover to identify sexual predators, bring them to justice, and save underage victims from sexual and physical abuse. His unique skillset has put monsters behind bars and ensured the safety of children around the world.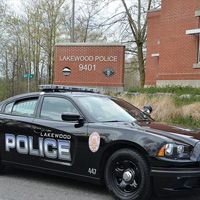 (Photo courtesy Lakewood Police Department)
Agency of the Year Award: The Lakewood (Wash.) Police Department wins the Agency of the Year Award for their remarkable policing efforts, which has led to a 12 percent drop in person, property and society crimes in the last year. This success is the result of a much larger initiative to make the community a safer place – a goal they set out to tackle exactly ten years ago, when the Lakewood Police first became an agency.
After just five years as a department, four Lakewood officers were gunned down in a coffee shop – an incident that rocked the law enforcement world nationwide. Lakewood managed to not only overcome the tragedy, but push forward with their goal, which has brought them where they are today.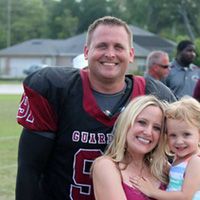 (Photo courtesy Christopher Gavette)
Leadership Award: Sergeant Christopher Gavette of the University of Central Fla. police wins the Leadership Award for his admirable guidance and management of his department.
Gavette's trust in his officers and family-like leadership has built a confident, proficient team of cops – a skill he proved the night he and a rookie officer responded to an active shooter at the University of Central Fla. 
Gavette provides his officers with the quality skills needed to become successful leaders themselves, and manages to have fun doing it. 
Each of the winners will be awarded TASER Axon-Flex body cameras with a year subscription to the video management site Evidence.com, a year subscription to the certified online training site PoliceOne Academy, plus a free trip to the IACP 2014 conference in Orlando, FL, with VIP access to all TASER events including the party co-sponsored by PoliceOne and Blauer
Over the past four months, we featured profiles of some of the RISE nominees and their departments. Those profiled included a three-man department from Kansas who uses social media and community outreach to police their hometown, an Ohio police department that took community policing to another level, a Texas cop who managed to save himself and his partner in the face of death, two Texas officers who put aside their own injuries to save a town in grave danger, and Sgt. Gavette's story of fearless leadership.  
The hardest part of this process was choosing three 'most deserving' officers and agencies, as each nominee deserves recognition and praise for their incredible heroism.  We thank everyone who submitted nominations for their fellow officers, and all of the men and women in blue who put their lives on the line without the expectation of being thanked or recognized.