Iowa cop shot in forehead, calmly describes gunman
The rookie officer called dispatchers with a detailed description of the suspect seconds after he was shot in the forehead
---
By PoliceOne Staff
SIOUX CITY, Iowa — An officer shot eight times — including once in his forehead — Monday afternoon during a traffic stop managed to describe the suspect to police despite his injuries.
The manhunt for Jamal Dean, 22, has put one neighborhood on lockdown as police comb the streets, according to the Sioux City Journal.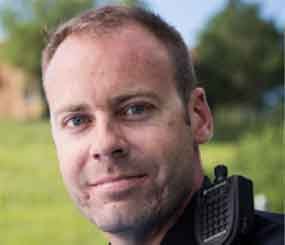 Officer Kevin McCormick was administering a traffic stop because a female passenger was not wearing a seat belt when Dean, the driver, exited the vehicle and immediately began firing before McCormick had left his squad.
McCormick, who joined the force a year ago, put the cruiser in reverse, ducked down and called the communications center, according to WCF Courier.
"I can't believe I'm talking to you guys right now because I've got a bullet in my forehead," he said. 
Dean was last seen running from the scene carrying a rifle. McCormick described him as a six-foot-one black man with the word "outlaw" tattooed on the right side of his neck. Police believe he has gang connections.
He's served prison time for weapons charges and is suspected in several area shootings.
McCormick was released from the hospital Tuesday and is expected to make a full recovery, according to police chief Doug Young.