Name of Conn. police officer killed while off duty to be added to National Law Enforcement Memorial
Matthew Mainieri died from a head injury after breaking up a bar fight
---
Peter Marteka
Hartford Courant
SOUTH WINDSOR, Conn. — The late South Windsor Sgt. Matthew Mainieri's name will be added to the National Law Enforcement Officers Memorial during a ceremony in May.
According to the department, the memorial's research committee recently approved the inclusion of Mainieri to the memorial wall located in Washington D.C. Mainieri was killed on Sept. 2, 2018 while off duty. Mainieri, a 20-year veteran of the department, was at a bar in Murrells Inlet, S.C., when a fight broke out. As he attempted to breakup the scuffle, he was hit in the head and died from his injuries.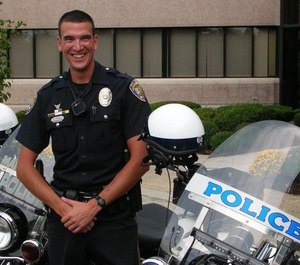 "Sgt. Mainieri died trying to break up a fight and prevent harm," Police Chief Scott Custer said. "He didn't have to intervene, but that's who Matt was — someone who always helped those who needed help, anytime and any way that he could. Matt lost his life honoring his oath of service, even off-duty, and we are forever grateful that our brother is being recognized for his sacrifice."
Names on the National Law Enforcement Officers Memorial include those killed in the line of duty who have "died as a direct and proximate result of a personal injury sustained in the line of duty." It also includes officers who "while in an off-duty capacity, act in response to a law violation."
Custer said it "was the determination of the department and the Memorial Fund Board Names Committee that Sgt. Mainieri's actions on September 2, 2018 met those criteria."
The National Law Enforcement Officers Memorial is located in an area known as "Judiciary Square" in Washington D.C. The memorial features two curving, 304-foot-long blue-gray marble walls and was designed by architect Davis Buckley.
Dedicated in Oct. 1991, the memorial honors federal, state and local law enforcement officers "who have made the ultimate sacrifice for the safety and protection of our nation and its people." Since its creation, more than 21,000 officers have been honored.
New names of fallen officers are added to the monument each spring, in conjunction with National Police Week. Mainieri's name will be engraved on the memorial wall and will be formally dedicated during the annual candlelight vigil ceremony on May 13 during National Police Week.
McClatchy-Tribune News Service