Pa. LEO shot off duty dies of injuries
Officer Calvin Hall was shot three times in the back early Sunday morning
---
By Tom Davidson
The Tribune-Review
PITTSBURGH, Pa. — The Pittsburgh police officer who was shot while off-duty Sunday in the city's Homewood neighborhood died Wednesday, city officials said.
Officer Calvin Hall died at UPMC Presbyterian, police Chief Scott Schubert said.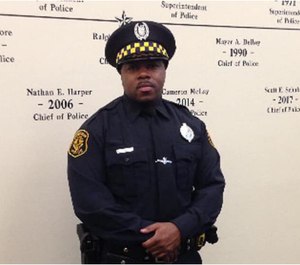 "We as a Bureau are heartbroken. We are in mourning. We are supporting each other, and we are keeping Officer Hall's family in our prayers and doing whatever we can to support and lift them in this dark, devastating time," Schubert said in a statement.
Hall was shot three times in the back early Sunday morning in the 7300 block of Monticello Street, where he was visiting friends.
"He fought valiantly for more than three days before succumbing to his injuries," Schubert said.
Hall was with the department for two years and previously worked part time for Braddock police. He was hand-picked to be employed at the Northview Heights Public Safety Center.
"In his time here he left an indelible mark on his brother and sister officers, as well as the community he served," Schubert said. "He was known for his quick smile, ever-optimistic attitude and for his career-long focus on community policing. He was a model officer. He made it a priority to connect with residents, and succeeded in doing so."
Police are investigating Hall's death as a homicide and Schubert said that "based on gathered evidence" it appeared that Hall, though off-duty when he was shot, "was in fact acting under the color of the law."
"We all want answers. However, this is an ongoing investigation. As in all cases, we must maintain the integrity of the investigation," Schubert said.
Mayor William Peduto, who is in Washington testifying before Congress, ordered flags to be flown at half-staff in honor of Hall.
"On behalf of all residents of the City of Pittsburgh I want to express my deepest condolences to the family, friends and coworkers of Officer Hall, a man who was deeply committed to his public service to the community," Peduto said in a statement. "The coming days will once again be difficult ones for our city, as we come together to mourn in pain and sadness."
©2019 The Tribune-Review (Greensburg, Pa.)
McClatchy-Tribune News Service