Palm Springs officers mourned at funeral
Officer Jose "Gil" Vega planned to retire in December and Officer Lesley Zerebny had just returned from maternity leave
---
By Hailey Branson-Potts
Los Angeles Times
PALM SPRINGS, Calif. — The little girl in the sparkly dress gripped the lectern with both hands, speaking ever-so-softly into the microphone that had been lowered for her.
Eight-year-old Vanessa Vega looked out at the hundreds of uniformed police officers seated before her to mourn the deaths of her father, Palm Springs police Officer Jose "Gil" Vega, and of Officer Lesley Zerebny. The girl smiled and tried her best to comfort them.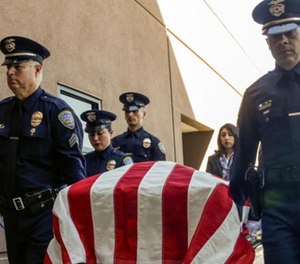 "We all have a time to pass away," she said. "It wasn't my father's turn -- but he will always be in our hearts and minds."
The joint funeral for Vega, 63, and Zerebny, 27, drew thousands of mourners to the Palm Springs Convention Center on a cloudless Tuesday morning. In what authorities have called a planned attack, Vega and Zerebny were fatally shot Oct. 8 as they responded to a domestic disturbance call.
Vega, a father of eight, had planned to retire in December after a 35-year career with the department. He wasn't scheduled to work the day he died but had volunteered to fill the shift.
Zerebny had been an officer for a year and a half. She had just returned from maternity leave after giving birth to her daughter, Cora, now 4 months old.
Vega had trained Zerebny. And Zerebny looked up to Vega.
Mourners were handed bracelets reading "Blue Lives Matter" as they entered the packed convention center.
The crowd was hushed as Vega's flag-draped casket was moved between two rows of saluting Palm Springs officers. One officer's lips quivered as he tried to keep his face stoic.
A large portrait of a smiling Zerebny, surrounded by white flowers, was displayed next to her mentor's casket.
From the stage, Palm Springs police Chief Bryan Reyes struggled to mask his anger, his voice rising as he spoke about the day Vega and Zerebny died.
Reyes refused to call the man charged in their killings -- 26-year-old John Felix -- by name, instead calling him "the subject" and decrying the fact that Felix "grew up in Palm Springs, attended our schools and led a life of criminal behavior."
"Enough is enough," Reyes said. "Our law enforcement brothers and sisters throughout the country are growing tired of this unacceptable behavior. People need to start taking responsibility of their own households and stop ignoring the signs of escalating violent behavior."
Reyes said Felix's Facebook posts "clearly depict, in my mind, a ticking time bomb."
Felix -- an admitted gang member who previously spent 18 months in state prison after being convicted of assault with a deadly weapon -- has been charged with two counts of murder, with the special circumstances of multiple murders, murder of a police officer in the line of duty and lying in wait.
Riverside County Dist. Atty. Mike Hestrin said last week that Felix ambushed his victims as they stood outside Felix's door. He allegedly wore body armor and used armor-piercing bullets and a stolen AR-15 assault-rifle in the attack, authorities said.
Felix pleaded not guilty last week after his attorney asked for a psychological evaluation to determine his mental competence.
On Tuesday, Vega was recalled as a quiet but funny man. He was someone who religiously got coffee and donuts every Thursday morning. He hardly ever called in sick, and he put his uniform on while staring with pride at pictures of family hanging in his locker.
Vega was born in Texas and as a child moved with his migrant farmworker parents and siblings to California, where he grew up in poverty in the Fred Young Farm Labor Camp in Indio.
When he became a cop, Vega was called "Ponch" because, with his thick black hair and ever-present dark sunglasses, he resembled Erik Estrada's character in the television series "CHiPs."
Vanessa, his youngest daughter, recalled him as the man who taught her everything -- baseball, karate, running.
"He was happy with his life," the child said. "He was happy with his friends, wife, daughters, everyone. He loves everything. He loves our dogs; he messes with them, mostly. But he's in peace now."
Andrew Vega, the officer's nephew who now lives in Boston, joked about a run-in with his uncle years ago.
"Long story short, after a long night of questionable choices, I ended up in the back of a police car being driven by a very upset Tio Gilbert," he said, laughing. His mustachioed uncle was screaming at him in Spanish -- something he did only when he was furious.
"He said, 'You're going to be a teacher, right?' " Andrew Vega said. "For the rest of your life, people are going to make assumptions about you. Don't ever prove them right about you. If you're going to work in public service, you have to be an example every moment of every day, and if you can't do that, find another job right now."
Andrew Vega said that "when you grow up a Latino boy, those are not the Latino men you see in the news and on TV. He created a counter-narrative, a story for me to live up to."
In a video tribute, photos showed Vega through the years, cheesing with his kids, playing golf with his buddies. Photos showed Zerebny in the prime of her youth -- wearing her wedding gown, showing off her pregnant belly, smiling at the camera while the infant daughter who shares her eyes stared up at her.
Zerebny was born and raised in Hemet, the spunky daughter of a California Highway Patrol officer. As a child, she'd run barefoot through her family's wooded property, with a BB gun strapped over her shoulder, showing off the lizards and rattlesnakes she caught.
She grew up and married Zack Zerebny, a Riverside County sheriff's deputy, and became a Palm Springs police officer in January 2015.

Zerebny was small in stature, but she was fearless, her colleagues said.
Pastor Joe Anady, Zach Zerebny's cousin, said family members all described her the same way: "She was crazy."
"She was a good kind of crazy," he said. "She was spunky, she was fiery, she was creative, she was full of life.... She was tough as nails."
Palm Springs police Det. Chris Jaeger, a close friend, recalled a camping trip in which Zerebny was wearing Dr. Martens boots, jean shorts, a bikini top and a 12-inch Bowie knife hanging from her belt while everyone else was in shorts and flip flops.
During that trip, Jaeger and his wife announced that they were expecting their first child, a girl. Zerebny called him two months later and told him gleefully that she and Zach were also expecting.
For all her spunk, there was a kind, gentle side of Zerebny that shined as she blossomed into a new mother. She loved to sing to her daughter, friends said, and she spoke of wanting to be "the best mom ever."
As the service ended, bagpipe music filled the air, and officers marched silently out the doors. The audience wept.
McClatchy-Tribune News Service