Photo: Officer hailed as 'hero' for helping woman in rain
The photo was picked up by a news station hours later and became a viral hit
---
By PoliceOne Staff
WINSTON-SALEM, N.C. — A North Carolina cop has become an 'internet hero' after a man snapped a shot of the officer offering a woman and her child a ride home in the rain.
Officer Charles Ziegler was off-duty and on his way to his security job at a church when he spotted a woman pushing her child in a stroller in the rain, and decided to help, according to NBC.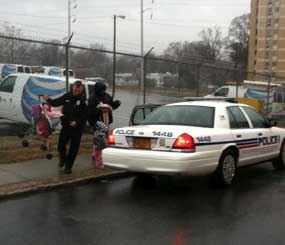 Ed McNeal, the town's marketing and communications director, saw the act, snapped a picture of Ziegler carrying the stroller to his trunk, and posted the picture to Twitter. 
"My phone just blew up Wednesday night," Ziegler told TODAY.com. "Last night, I got a text message from someone I go to church with and she said I made the news in England.
"I am not trying to belittle anyone, but I think this story's been made more than it actually is," he said. "It's me giving a lady and her child a ride. I don't think it's that big of a deal…Cops across the state and across the nation, they do stuff like this all the time."