Photos: LEO wife captures cops' lives 'beyond the uniform'
Sara Hunter captures moments with officers that show their side outside of authority
---
By Elyse Lopez
PoliceOne Contributor
BLOOMINGTON, Ind. — Sara Hunter always wanted to be a cop ever since she was a little girl. 
But in her twenties after being accepted into the academy, she discovered she was pregnant and put her dream on hold, she told PoliceOne. However, she ended up marrying an officer and turned a part-time hobby into full-time way to showcase the LEO lifestyle.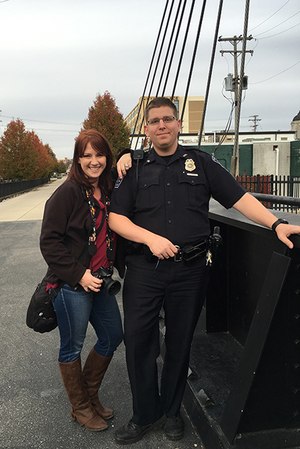 "I just want to move people," she said. "I want people to see these officers and not their uniforms."
After growing up with friends and family members in law enforcement, Hunter was quite comfortable with police. She met her husband, a current detective with the Bloomington (Ind.) Police Department, and started snapping pictures of their friends and family for fun. Her photographs soon turned into a lucrative career.
Her photos showcase officers beyond their uniforms. Her project, "Humanizing the Badge," captures local officers with families who cherish them and attempt to remove the stigma surrounding cops in modern culture.
"The public is viewing officers as bad guys, they don't see they have feelings and emotions or that the job gets to them," Hunter said. "They are far too often not recognized for how truly amazing that kind of sacrifice is."
Some photos have touched her personally, like a father having tea with his two daughters.
"I want people to see how much they're loved when they go home and that somebody is waiting for them," she said.
Hunter plans on turning her photos into a calendar which will be for sale in the near future. All proceeds from the calendar will go directly to a police nonprofit.
"It's been nice to bring something positive to the community," she said.