Police: LEO took on London terrorists armed only with baton
Another LEO, who was off duty at the time, tackled one of the attackers
---
By PoliceOne Staff
LONDON — Two officers, one who was off duty, are being praised for their heroic actions during the Saturday terror attack in London. 
According to the Independent, an officer, who was one of the first on the scene, was attempting to stop the van and stabbing attack that left seven dead. He was armed only with a baton when he took on all three attackers, and received stab wounds to his face, head and leg. He is currently listed in stable condition.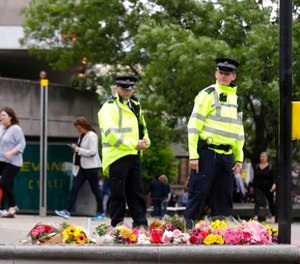 Police killed the three suspects in a shootout. 
"Although he is seriously unwell, he was able to recount how he faced the attackers armed only with his baton, outside London Bridge station," chief constable Paul Crowther told the Independent. "For an officer who only joined us less than two years ago, the bravery he showed was outstanding and makes me extremely proud."
An off-duty officer, described as an amatuer rugby player, saw the attack happening outside and tackled one suspect to the ground, the BBC reported. He was stabbed and was taken to the hospital in a police car. He remains in critical condition. 
"There can be no doubt that the swift response of our colleagues – both armed and unarmed – saved further lives from being lost," Metropolitan Police Federation chairman Ken Marsh told the Independent. "There are barely words to describe their bravery – officers who ran towards danger with no thought for their own safety. Londoners can rightly be proud of their emergency services today."
Metropolitan Police Chief Cressida Dick told the Telegraph that both officers showed "extraordinary courage" during the attack.