Police recount heroics of officers wounded in Pittsburgh attack
Two officers have been released from the hospital, while two others remain hospitalized
---
By Megan Guza
The Tribune-Review
PITTSBURGH — A smile was all Cmdr. Jason Lando needed.
When Pittsburgh police SWAT Officer Tim Matson cracked a smile and made a joke from his hospital bed Sunday morning, the weight lifted, Lando said. Lando is commander of Pittsburgh's Zone 5 station where Matson was assigned when he joined the force more than a decade ago.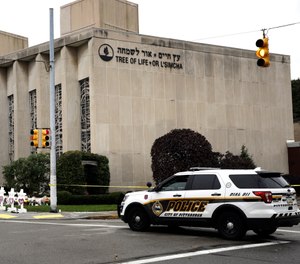 "As soon as I walked in the room, he looked at the officers who were in there and cracked a smile and started to joke around with us," Lando said. "As soon as he started joking around, that really … gave us a sense of comfort."
Shot multiple times in a gun battle with alleged synagogue shooter Robert Bowers, Matson was carried out of the Tree of Life Congregation by SWAT medics and taken to the hospital in critical condition. He's undergone one surgery and has more ahead, Lando said.
He is one of four officers injured in the Saturday morning shooting that left 11 people dead.
Two officers, including Michael Smidga, have been released from the hospital. Matson and another officer — a Zone 4 patrol officer who was one of the first on the scene — remain hospitalized. Matson is in critical condition. The other officer is in stable condition, according to UPMC.
Lando and other Pittsburgh Public Safety officials have declined to name the other injured officers out of respect for the officers' privacy. Officials have said they will release the officers' names at the appropriate time.
Two worshipers were also injured in the shooting and remain hospitalized. Andrea Wedner, 61, is in stable condition.
Wedner is the daughter of Rose Mallinger, the 97-year-old woman killed Saturday.
Daniel Leger, 70, remains in critical condition. Paul Leger, his brother, said he is in an intensive care unit.
"There's really no change," Paul Leger said. "I think tomorrow (Tuesday) we may know more."
Lando said Matson is known for his humor, specifically his ability to defuse tense situations. Sunday morning in the locked-down hospital wing was no different.
"That's when you knew, 'OK, he has a long road ahead of him, but he's going to be OK,'" he said. "That's his way of basically telling us to chill out."
The funny man is also known for his bravery, Lando said.
"If anyone knows Tim Matson, they know as much as he likes to joke around — and as funny as he is — when it comes down to bullets flying and lives are in danger, he's all business and all about getting the job done," he said. "It doesn't surprise me one bit that he was one of the first ones (inside the synagogue)."
Two Zone 4 patrol officers were the first on the scene after the initial call from inside the synagogue was made to 911 at 9:54 a.m. Patrol officers are armed with a ballistics vest and a handgun.
Police say Bowers was armed with an assault rifle and three handguns.
They say he opened fire from the door of the synagogue. The patrol officers returned fire. One was hit in the hand and leg. Another was hit with flying glass and shrapnel, leaving the right side of his face bloodied.
Smidga was hit by shrapnel.
Lando, who wouldn't identify Smidga, said at first he thought the officer had been shot in the head.
"Regardless, he had just faced gunfire, and I immediately knew he was out of the fight, because there's no way I'm going to put an officer who just faced that trauma back out there," Lando said.
Lando grabbed his arm and walked him two blocks to an ambulance. Lando then walked back to the scene.
"Ten minutes later, I turn back around, and he's standing next to me," Lando said. "I'm like, 'Did we not just walk to the ambulance, and I left you there?'"
The officer had heard gunfire and returned to the scene.
"That just shows the level of commitment of our officers," Lando said. "They know a ton of help is arriving from other capable officers, but you don't want to leave your brothers and sisters when bullets are flying."
He could have gotten into the ambulance and gotten away from the scene — he was visibly shaken, Lando said.
"When I say we're a family, that we're brothers and sisters, that's an example right there," he said. "You know that your fellow officers are getting ready to go into a gunfight, and you want to be with them."
McClatchy-Tribune News Service