Slain Fla. trooper was 19-year veteran recently honored for heroic actions
Trooper Joseph Bullock is remembered for his dedication to, and love of, his profession
---
Michelle Marchante and Devoun Cetoute
Miami Herald
MARTIN COUNTY, Fla. — A veteran Florida Highway Patrol trooper, honored six months ago for saving a person's life, was shot and killed late Wednesday morning on Interstate 95 in Martin County, FHP said.
At 10:25 a.m., Trooper Joseph Bullock, a nearly 19-year FHP veteran, was shot near Palm City at mile marker 107, about three miles south of Stuart, according to the Martin County Sheriff's Office and the Highway Patrol. The crime scene shut down I-95 for hours.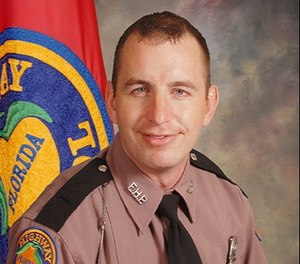 Bullock was assisting a person in a "disabled car" Wednesday morning on the side of the highway, FHP said. The person in the car, whom FHP did not identify, shot and killed Bullock, FHP Col. Gene Spaulding said at a press conference Wednesday evening.
A passing Riviera Beach police officer saw the commotion and stopped to intervene.
The police officer shot and killed the suspect, said Spaulding, who did not identify the police officer. Riviera Beach police deferred the matter to FHP.
Spaulding did not say whether there were more people in the car but said troopers were not looking for any additional suspects or persons of interest. I-95 was re-opened at 6 p.m..
"Joe was one of those troopers who went out every day and did his job quietly and proudly," Spaulding said.
Bullock, 42, was with the Fort Pierce troop his entire career with FHP. Before becoming a trooper, Bullock served in the U.S. Air Force. He is survived by his parents and two sisters.
The Highway Patrol said he died while "assisting the public" on I-95 in Martin County.
"Today, the entire Florida Highway Patrol and FLHSMV family is heartbroken as we mourn the tragic loss of Trooper Joseph Bullock, a nearly 19-year veteran of the Florida Highway Patrol who chose to make selflessly serving and protecting others his life's work," said Florida Highway Safety Executive Director Terry Rhodes and Spaulding in a statement. "Please keep his family and his team members in your prayers."
Bullock was a trooper of the month nominee in September, according to Bullock's Facebook post. FHP Sgt. Michael R. Lanam, in a letter he wrote nominating Bullock for the accolade, detailed Bullock's heroic actions in saving a crash victim.
In September, Bullock was called to a crash on I-95 where he noticed a van overturned in 3 feet of water. The driver was OK, but a passenger inside was not. Bullock climbed on top of the van and saw that the passenger's lower half was trapped under the van. He began extricating him until Fire Rescue arrived.
"The passenger was transported to St. Mary's Hospital and is alive due in part to Trooper Bullock's immediate action," Lanam wrote.
In a Facebook post, Okeechobee County Sheriff's Office sent its condolences.
"The members of the Okeechobee County Sheriff's Office would like to extend our condolences to our sister agency, the Florida Highway Patrol. Sadly they lost a trooper earlier today in Martin County due to a felonious act," the Okeechobee Sheriff's Office wrote on Facebook.
Bullock loved his job, judging by his Facebook posts, which are filled with stories about being a trooper and the people he met.
In one post, he gushes over the possibility of meeting someone who looked like Liam Neeson.
"THINK I just pulled over Liam Neesons' twin brother for not using a turn signal. Same accent...Same Build. It was actually a nice experience."
Bullock also loved the Pittsburgh Steelers. On Dec. 8, the Steelers beat the Arizona Cardinals, 23-17. The same day, the New England Patriots lost 23-16 to the Kansas City Chiefs, who would become the Super Bowl champions. Posting on Facebook, Bullock had this to say about the two teams:
"MY team won with a 3rd string quarterback nicknamed "Duck" #PittsburghSteelers. The New England Patriots LOST with a Quarterback named "Tom Brady.""
McClatchy-Tribune News Service