We are still, and always, all OPD
"Whoever lives by the truth comes into the light, so that it may be plainly seen that what he has done has been done through God" — John 3:21
---
Today is a day of solemn remembrance.  Today marks one of the most tragic days in the history of the Oakland Police Department — indeed, in the history of law enforcement.  Three years ago today, a paroled felon and rape suspect murdered four law enforcers from the Oakland (Calif.) Police Department.  Officer John Hege and Sergeant Mark Dunakin were gunned down just feet from their motors during a traffic stop.  Sergeants Daniel Sakai and Ervin Romans were shot to death as their SWAT unit assaulted the apartment in which Lovelle Mixon — armed with an AK-47 — laid in ambush. 
Today, the Oakland Police Officers Association will unveil a new memorial sign to be placed along the 580 Interstate on the Keller Avenue overpass.  Today, a special ceremony will be held at OPD Headquarters for the families and friends of the fallen four.  Today, we take the sacrifice made by these wonderful warriors and we go forward in their mission — in their memory. 
Two years ago, my friend Glenn French wrote, "Today, we are all OPD."  I humbly submit that three years after that evil event — and for countless years to come — we're still, and always, all OPD.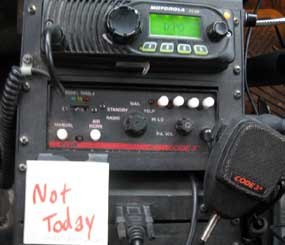 Today... and Not Today!
Today, of all days, we should be reminded of the sage words of my good friend Dave Smith.  More than a year ago, Dave wrote an amazing article in which he proposed that everyone in law enforcement enter into a 'conspiracy of safety.'  Dave astutely reminded us all that the root of the word "conspire" means, quite literally "to breathe together." 
"Just you and me," he wrote, "breathing safety together — you taking care of you, me taking care of me. We will do this day-to-day, hour-by-hour, minute-by-minute, consciously thinking of the risks we face and overcoming them one at time, each time they appear." 
Cops all over the country were soon placing "post-it" notes in squad cars and on department desks which stated simply, "Not today!"  These simple signs signified the underlying message Dave was putting out there — that when you're out on the street, think to yourself, "Not today, not on this shift, not on this call, not on this stop — I will not be caught unaware!"
I spoke briefly yesterday with Officer Johnna Watson, the PIO for Oakland PD, to get a few of her thoughts to include in this column.  She asked me to explain a little bit about the column I was writing, and I said something to the effect of the following... 
"Today is a day we promise ourselves that no one will fall to the hands of a perpetrator — the word that actually came to mind is not appropriate for publication — like Lovell Mixon.  Today is a day to be cognizant of the threats out there on the streets, be vigilant against them.  Today is a day to be safe.  Today offers us further impetus to take all our fallen heroes with us as we go forward, carrying on in their stead." 
I had — and have always had, since the day I first read 'Conspiracy of Safety' — Dave's incredible idea in mind when I spoke with Officer Watson yesterday. 
"Today is a very real reminder that not only on this day, but every day, we need to remember to take care of each other every day ...so that a tragic event like this will never happen again," Watson said. "We don't think about 3/21 only on 3/21, but it is a reminder to be careful, and to take care of each other every day — 3/21 is a reminder that that's something we think about every single day." 
"To our officers, it's a very solemn day," added Barry Donelan of the Oakland Police Officers Association when we spoke late yesterday.  "They lost four of their brothers and there's still an awful lot of pain associated with this terrible tragedy.  We've always appreciated the tremendous support we've received from law enforcement officers throughout the nation... in the last three years." 
OPD 3/21 ...and John 3:21
I'm by no means a particularly religious person — I certainly don't go around quoting the Bible — but anniversaries of tragedy can sneak up on a person in an emotionally-impactful way.  So, as I wrote this column, I was inexplicably compelled to remind myself of what it says in John, Chapter 3, Verse 21. 
"But whoever lives by the truth comes into the light, so that it may be plainly seen that what he has done has been done through God."  It's worth noting also, the verse which immediately precedes that passage.  John 3:20 states, "Everyone who does evil hates the light, and will not come into the light for fear that his deeds will be exposed." 
Lovelle Mixon was pure evil incarnate.  He is now and forever in the darkest place imaginable — in fact, human imagination cannot comprehend the depth of such darkness.  And I say, "good on that." 
But those beloved four heroes — those four fallen warriors — have truly come into the light.  They were taken from us while they were doing God's work.  Mark Dunakin, John Hege, Ervan Romans, and Daniel Sakai were not merely heroes in death — they were heroes every day of their lives.  They had a tremendously positive effect on their colleagues, in their community, and for their country. 
In their memory, we move forward in our conspiracy of safety.