The most irritating things you can say to a police spouse
Here are a few of the most irritating things you can say to a police spouse...and the people who usually say them
---
Chances are, if you're married to an officer, you've heard your fair share of comments and questions that leave you with a strong desire to respond with a throat punch.
And chances are, if you are one of those people who have made said comments, or asked such questions, you either have no idea how it comes across, or you have quickly learned after catching the spouse of an officer on a really bad day.
Here are a few of the most irritating things you can say to a police spouse...and the people who usually say it.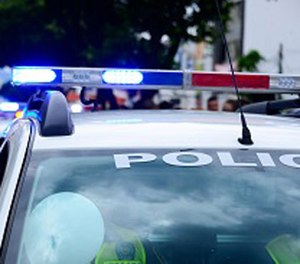 1. That random neighbor who knocks on your door
"Hey, I heard those sirens last night. What was that all about?"
I have no idea, my husband works day shift, he was off-duty and asleep. If he were on duty, there's a 99% chance I still wouldn't have a clue.
"Is your husband home? I locked myself out of the house."
Did you need a number for a locksmith? If he's home, he's off-duty. If he's on-duty, he's not here to help you call a locksmith.
"Is your husband home? I just had a few questions to ask him about my sister's new boyfriend."
No. Just no.
2. That "friend" on Facebook
"I'm just curious, and I'm not saying this in a bad way, but...why are cops allowed to speed when they're not even on a call? I'm not saying your husband does, but I've just always wondered."
So you got pulled over for speeding so now you're going to complain about random officers to an officer's wife about what officers do?? Got it. You know that driving with lights and sirens and a breaking news report is not the only way an officer responds to a call, right? No? Mmkay.
"I have the greatest respect for officers, but...it really ticks me off to see them just sitting in their cars doing nothing, I mean, aren't there robberies to respond to and people to protect and serve?"
So, you'd be happier living in a city where crime is never-ceasing, where robberies and rapes and murders and kidnappings and legitimate horrors take place every second so that it requires police attention non-stop, 24-7 because at least that way, you're getting your tax dollars' worth? Let's go see if we can stir up some shit and get those cops to work!
3. Your brah, from college
"Duuuuude...you married a cop! Does your wife beat you up? Does she use the cuffs on you? Have you boned in her unit?"
You matured slowly, huh?
4. That "favorite" family member
"What do you mean you aren't having Christmas on Christmas? Well, that's the most ridiculous thing I've ever heard. How can your husband choose to work instead of being with his family. I always knew he was selfish."
Do not punch Aunt Peggy in the throat. Do not punch her, do not punch her!! Well of course he's intentionally breaking our hearts by earning much needed holiday pay so we can actually afford Christmas, not to mention time off was never an option anyway. But thanks for your appreciation for those keeping the streets safe while you complain about how we spend our holiday.
"But we planned this party after his shift specifically so he could be here? I don't know how all of a sudden he can't get off in time? We've had this planned for weeks!"
You realize you've never been a considerate drunk, right? Neither is the drunk that is keeping my husband from your precious party. Thanks for your concern.
5. That "Perfect Couple" at all your kids' sporting events
"You're divorced, right? I mean, I hardly ever see Billy's father and when he does show up he just stands by the fence in his uniform, so I mean, I figured it out".
Not divorced. He just doesn't have banker hours. Thanks for your interest in the imaginary demise of my marriage.
"I don't know how you do it, I mean...it's like you're a single mom. I'm just saying, I got married to actually have my husband around".
Thanks for allowing me to share in your disappointment of my lack of "together" time.
"Wow, you're married to a cop? On purpose? Has he killed anyone yet?"
Do not throat punch...do not throat punch...
6. That young chick who has no idea what's coming
"Ooh. Your husband can arrest me anytime!" *wink*
Throat punch.