They don't call the position 'tactical manager'
When it is time to select the next tactical leader to fill a key position on your department's tactical team, who will it be?
---
Editor's Note: We welcome to our roster of writers Sergeant Major Kyle E. Lamb (retired), who served more than two decades with the United States Army, most of which was with U.S. Army Special Operations. We met SGM Lamb at SHOT Show last month and asked him to contribute an occasional article addressing a wide array of issues including tactical leadership skills, shooting proficiency, and gunfight survivability. Check out his debut column below and send him an e-mail with your feedback.
Leaders must have credibility. Credibility is the cornerstone of a great leader. So where do you pick up a six pack of credibility?
Credibility is not attained through rank or position, and it can't be bought. Credibility is earned.
Earning credibility may not necessarily take place while you're assigned to the tactical team. It may happen while you're on the street as an officer, or just by the way you are seen conducting day-to-day business in your organization.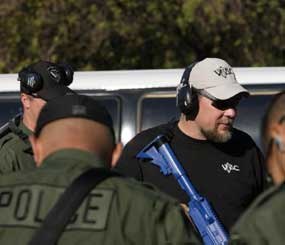 Let's assume that you've earned credibility. Now let's assume you've been selected to be a leader on your tactical team. Guess what? It's time to start over and reestablish your credibility as a tactical leader, not just a patrol leader or supervisor. You now must become the leader that the team looks to for guidance, not the supervisor that automatically thinks they are the smartest one on the team simply because of their rank or position.
Manager vs. Leader
In many departments the selection process for tactical leaders does not differ from the selection of what I would call managers. Managers are in key positions in order to ensure the department runs smoothly. The difference with the tactical team, is that here we need a leader, not a manager.
Managers are needed to make seamless business of the day-to-day administrative issues that can burden a Police Department. But managers are also sometimes bureaucratic. Admittedly, when I say 'sometimes,' I am being extremely generous. A bureaucracy will not work for operations that require a nimble response. When I teach a seminar I call "Leadership in the Shadows" I have a slide that states:
"Avoiding Bureaucracy — Efficient Targets require Efficient Planning and Execution."
This statement should be self explanatory, but if it isn't, let me explain. The criminals that police are tracking these days require an efficient planning and execution phase of the operation. Fleeting targets will not stop to wait on a bureaucratic solution to the problem, they will be long gone. Therefore, the manager who is successful (largely due to analytical constipation) may not be good when immediate action is required.
Decision Making
The tactical leader must be able to quickly do the following:
• Information Processing
• Options Analysis
• Make Correct Decisions
Making these correct decisions in a highly stressful, life-or-death situation, while placing more than just yourself in harms way, requires one important thing. Training!
Training requires the leader to be present to work through these complex problems with his or her team. Are you, as a tactical leader, going to make some incorrect decisions? Absolutely, this is why training is so important. Make the wrong decisions in a training environment in order to build your tactical knowledge base so you are ready for the real world.
Leading by Example
"Do as I say, not as I do!" Who in the world came up with that? Definitely not someone we want to follow or have as our leader.
Does this mean as leaders we must be the 'Number #1 Man' on every room entry? Absolutely not.
What it does mean is that you should be of the right mindset to take care of your people. That is your job. Never forget the Mission, but on the way to successful mission accomplishment you must take care of your people.
Too often we see leaders who live by a different set of rules than their subordinates — this is not possible if you want to have leadership traits that are looked upon as favorable.
Establish your credibility, decide if you are a leader or a manager, and get the required training to increase your odds of making the correct decision in a critical situation. Lead your people the direction they need to be led and you will be successful as a tactical leader.
Your people know you better than you think. What do they think of you? Are you the example you want to be? More importantly, are you the example your team needs you to be?