One police shift: a ride-along with Chicago PD on Patriot Day
Riding along with officers illuminated the highlights and the challenges of the Chicago Police Department
---
Content provided by GovX
By Brent Hannify for PoliceOne BrandFocus
Officer Carlos Vera's entry in the 2018 Law Enforcement Honor Week giveaway earned his department the top prize. GovX awarded the officers of Chicago Police Department's 25th District with a $2,500 GovX shopping spree. Earlier this month, GovX traveled to Chicago to meet Carlos and his fellow brothers and sisters in blue.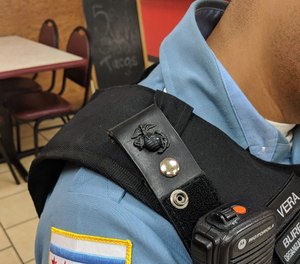 Last summer, Officer Carlos Vera and his longtime friend James Frazier responded to an overdose in Chicago Police Department's 25th district. By the time they arrived, the victim was deceased. As they were awaiting body removal services, six gunshots echoed down the block followed by the telltale screech of tires. A drive-by shooting. Vera, a five-year veteran infantry Marine, took cover behind his squad car beside Frazier. Peering over their car, they spotted a victim down and notified dispatch. Within seconds, support units were on the scene providing backup.
It was Vera's second day on the job.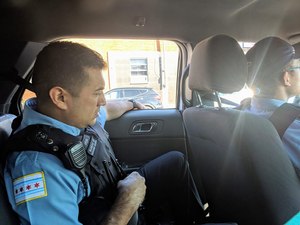 Chicago is a city that demands much from the police. After a mere eight weeks on the job, Vera already lost track of how many overtime slips he and his fellow officer-in-training James Frazier have submitted to the department. The 25th district is among the busiest in the entire city. Besides the thousands of basic service calls already received in 2018, the men and women of CPD's 25th have responded to 17 murders, 74 shootings, 66 criminal sexual assaults, 400 burglaries, 338 robberies, 175 aggravated robberies, and nearly 400 stolen vehicles. Vera stays busy, and this city will only demand more of him after he becomes a fully unionized officer after 18 months on the job. He's already been a police officer in nearby Evanston, a Chicago suburb where he averaged about four or five calls per shift. In his new district, it's about triple that number.
He explains all this to me as I sit beside him in the back of a CPD Ford Explorer. In a city where citizen ride-alongs are generally avoided, the sergeant on watch today has made an exception for me to ride with Vera, Frazier, and their field training officer Belinda Galdo. I get the feeling that had I visited their district at night, there'd be no chance I'd be allowed here. It's around 10 in the morning of September 11. The trio has been on watch since 5 a.m., only returning to the station for a brief and solemn flag-raising ceremony during which the officers of the 25th District stood at attention and held a moment of silence for the victims of the terrorist attack 17 years ago.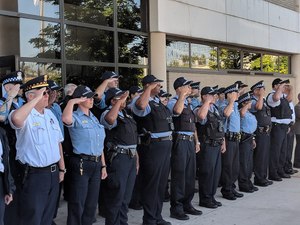 Vera is an officer with a history of service. As a young man, he served with the Marines out of Camp Pendleton, and he was among the first infantry servicemembers on the ground during the invasion of Iraq in 2003. A native Chicagoan and a father of two, Vera has served his country and community his entire adult life.
The first call I saw Vera and his two partners take involved a local business owner, frustrated with prostitutes soliciting johns outside his shop. There was only so much the officers could do. As Vera explained, it's not exactly illegal to walk up and down a street waving at cars. It's catching someone in the act that's not exactly easy. Or desirable.
Vera gives the man some Chicago PD No Trespassing signs to post and pledged to keep an eye on the area. The business owner shook the officers' hands one by one.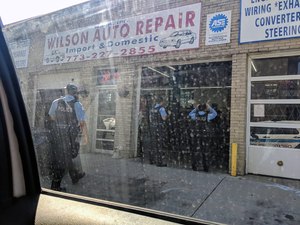 It was glimpse at the community outreach the 25th district practices. The Chicago Alternative Policing Strategy, or CAPS, seeks to bridge the gap between police and citizens. In each beat, there are monthly meetings where the police give a breakdown of recent crime and invite the community to air grievances and concerns. The meetings are a chance for the police and the community to interact with each other outside the circumstances of a typical police encounter. The department works with each district's alderman, an elected official on the city council to serve each individual neighborhood and attend to public safety needs.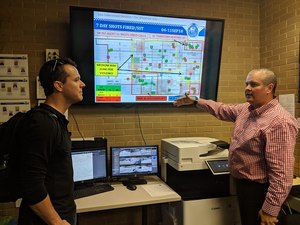 The city's high crime rate also necessitates the usage of technology to respond to calls as quickly as possible. Chicago relies on ShotSpotter, a seismological detection system originally designed for the military, to rapidly respond within seconds to gunshots. When combined with surveillance cameras, CPD officers can not only triangulate the position of the gunshot, they can even get eyes on the shooter and put out a description.
Vera pauses every few moments to listen to his radio on his right shoulder, which hasn't stopped chattering for more than ten seconds since leaving the station.
Suddenly, a breathless voice of an officer in distress comes over the radio. The car goes quiet as the officers listen.
Frazier pulls the Explorer into an abrupt left turn. More details keep coming in, a dispatcher describing the suspect's look and attire in greater detail every few seconds. A man in head-to-toe red apparel, approximately 6 feet tall, 150 pounds, possibly connected to a white SUV reported stolen earlier that day. He was armed with a weapon. The breathless voice over the radio was an officer in pursuit.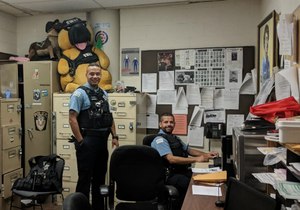 We move through a neighborhood, approaching two units, already on site with light bars flashing. Frazier drives slowly as Galdo and Vera scan each alley we pass, unhooking their seatbelts, ready to move if necessary. If they get out, Galdo tells me to stay in the car. "We don't have a vest for you, so stay put," she said. I had no intention of getting out anyways.
The scene was well covered, so we moved on. Later, we heard that the officers looking for the man in red had found a gun the suspect had dropped. No word on his whereabouts. No word on the SUV. It was a punctuated moment of suspense in an otherwise routine patrol. One minute, they were prepared to burst out of a car and apprehend a possibly armed suspect, the next they were discussing their favorite local Mexican restaurants.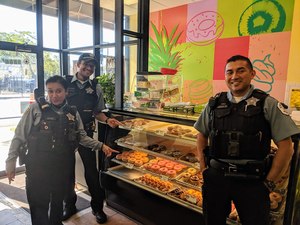 The three eventually decided on one of those restaurants to spend their lunch break. Over beef street tacos, Vera described a tight knit community among the officers of in the 25th District. Even just a few months on the job, Vera feels supported by his fellow officers, and as far as he can tell, he feels welcomed by the community he serves. "For me, landing in the 25th was a serendipitous moment. This was where I grew up," he said. "When I joined the department, I'd sometimes wonder what it would be like to patrol a part of the city I had a deep connection to." A few days after the deadly overdose he responded to on his first week, he and Frazier stopped by the same location to check on the victim's girlfriend. "She told us that she appreciated us driving by and checking up on her," he said. "It's a little thing, but it's the kind of positive encounter we're looking for." By building on encounters like that, the officers of the 25th build their relationship with the community citizen by citizen.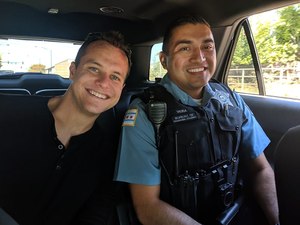 GovX would like to thank Officers Carlos Vera, James Frazier, and Belinda Galdo for hosting our staff member for an afternoon ride-along. We would also like to thank Sergeant Tom Cotter, who organized our visit, as well as all the officers of Chicago PD's 25th District. Thank you for serving your community every day and for giving us a glimpse at what life is like on the job.

Request information from GovX
Thank You!