INTAPOL Uniforms Offers 3 Season Jackets for Veterans
---
use if there is a picture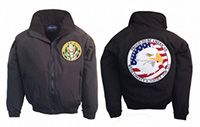 end picture JERSEY CITY, NJ -- INTAPOL Uniforms, the branded product line of Intapol Industries, has announced the newest addition to their Law Enforcement Jackets & Rainwear collection, the Veterans 3 Season Jacket.
The Veterans 3 Season Jacket is for veterans of the five branches of the armed forces, namely the Army, Marine, Navy, Air Force and Coast Guard. It is available in black with warm and features a 5" emblem of your armed forces branch in the left breast, a 12" round emblem with embroidered eagle and stars and stripes at the back and 2 front slash zipper pockets, a black fleece lining that's perfect for spring, summer or fall season. The jacket comes in various sizes, from small to 4XL.
The Veterans 3 Season Jacket costs $79.99. You can buy it at Intapol's website or in their outlet at 100 Amity Street, Jersey City, New Jersey.
To find more Law Enforcement clothings and equipment, visit Intapol at www.intapol.com or call them at 1-800-631-0480 today.

Request more product info from INTAPOL Industries, Inc.
Thank You!