Chicago body armor ban criticized as too restrictive
The ban was passed last month in the wake of the shooting death of a respected police commander
---
By Don Babwin
Associated Press

CHICAGO — Chicago's City Council is expected to water down its ban on most residents wearing body armor after criticism that it could put in danger people such as 7-Eleven store clerks in crime-ridden neighborhoods.
The ban, which experts say is the most restrictive in the United States, was passed last month in the wake of the shooting death of a respected police commander, allegedly by a convicted felon wearing body armor.
"We are going to revisit it (because) we realize you have a guy working in a 7-Eleven in a tough neighborhood who might have a legitimate reason to want one," said Alderman Patrick O'Connor, one of the co-sponsors of the ban. "I mean, you have these companies selling kids' backpacks that have them (bulletproof plates) in them so if I am a law-abiding citizen and I want to wear body armor, why in the world shouldn't I be able to?"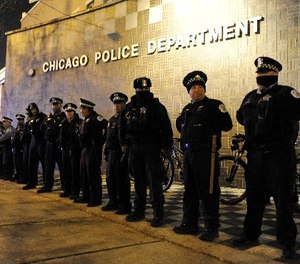 The City Council on Wednesday is expected to add exemptions for journalists when they are out covering stories and actors who need body armor as props to a list of exemptions that already includes police officers, emergency responders, firefighters and a few others. The revised ordinance would also delay enforcement for 120 days to allow state lawmakers time to consider a bill that would toughen penalties for people who commit crimes while wearing body armor.
Though the expected revisions don't include the shopkeepers O'Connor said he was concerned about, he said the hope is the delay will give the state enough time to craft a bill that would protect them. If it does not, he said the council would once again discuss expanding the ordinance to allow more people to legally wear body armor in the city.
Almost immediately after the measure was passed last month, the blowback began.
"If there is a need for it somewhere, we don't want to be an obstacle for those peoples' safety," said Superintendent Eddie Johnson, who was a close friend of Paul Bauer, the police commander fatally shot in February. Johnson said that there is proposed legislation before state lawmakers that "is addressing that exact issue."
The Chicago ordinance, which mentions Bauer by name, warns of "the "insurmountable threat" faced by city residents if "felons and others potential offenders continue to acquire such protection ..."
Mass shootings carried out by people wearing body armor have also made authorities increasingly worried about stopping heavily armed gunmen. The shooter in the 2012 shooting in an Aurora, Colorado, movie theater wore body armor, and the man who killed 49 people at an Orlando, Florida, nightclub in 2016 had recently tried to buy it.
Like other cities, Chicago has been rattled by recent mass shootings, particularly after the news that the man who gunned down 58 people in Las Vegas last fall had months earlier booked a room — but never stayed — at a Chicago hotel that overlooks a park where a music festival is held that draws hundreds of thousands.
While the number of gun deaths has been dropping in Chicago over the last year, 2017 still ended with 650 homicides and in some neighborhoods there were more homicides than entire cities, including one on the West Side that saw more homicides than the entire city of San Francisco.
Chicago, which has been forced to weaken what were once among the toughest gun laws in the nation as courts have ruled against the city, is being watched closely by gun rights advocates.
"We've never dealt with body armor before and we are not sure what our strategy will be," said Richard Pearson, the executive director of the Illinois State Rifle Association. "But we're always looking for people who might want to do a lawsuit. We're always open to that."
Copyright Associated Press. All rights reserved. This material may not be published, broadcast, rewritten, or redistributed.
Request product info from top Police Body Armor companies
Thank You!