Slain NY cop's widow attests to cost of not wearing vest
Charles E. "Skip" McDougald took a calculated risk. It cost him his life
---
By Lou Michel
The Buffalo News
BUFFALO, N.Y. — Charles E. "Skip" McDougald took a calculated risk. It cost him his life.
The Buffalo police officer decided not to wear a body-armor vest while he waited for a new one that was supposed to arrive in just a matter of days. The old vest no longer fit him properly.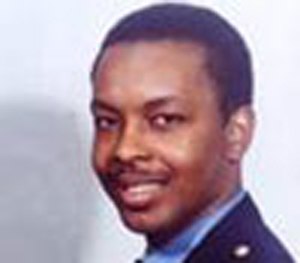 Shortly after midnight on April 9, 1997, McDougald and his patrol partner tried to stop a 19-year-old man emerging from an alley on Northampton Street. The man shot the 36-year-old McDougald in the heart, killing him.
If McDougald had been wearing his vest, there's a good chance he would have survived.
And that is the lesson his widow has been preaching to police officers ever since.
"I still have a lot of friends who are police officers and friends whose children are now police officers. I tell them the same story. I tell them that I lost someone who was really dear to me — my husband — and I just don't want to see it happen to someone else," Sylvia L. McDougald said.
That lesson can be taught in the opposite way, too.
In the last two months, two deputies in Niagara and Orleans counties survived after being shot in separate incidents because they were wearing their vests.
Niagara County Sheriff's Deputy Joseph L. Tortorella survived a bullet that struck his vest on the left side of his rib cage April 17. Orleans County Deputy James DeFilipps was shot twice, once in the stomach and once on the side of his torso March 21.
In fact, body-armor vests have saved the lives of more than 3,100 police officers since 1987, according to the International Association of Chiefs of Police in Alexandria, Va.
And since the federal government established the Bulletproof Vest Partnership in 1999, it has contributed nearly $400 million to pay up to 50 percent of the cost for more than 1.1 million vests for state and local law enforcement agencies.
Yet not all departments require officers to wear the vests.
In Buffalo, officers have the option of deciding whether to wear one or not, though they are required to have the department-issued vest with them at all times and can be ordered to wear the armor in hazardous situations.
Sylvia McDougald thinks that all officers should be wearing vests, and that is why she speaks out. Exceptions can be fatal.
Her late husband was a strong believer in wearing the vest, she said, but he figured that a handful of days without it would not matter. He had put on some extra weight, and the old vest became uncomfortable, so he ordered a new one.
"He was looking forward to getting that vest. He really believed in the importance of wearing the vest. It was just one of those ... things. It hadn't come in in time. You wouldn't think something would happen in that small gap of time. We're talking about a week of time," his widow said.
By sharing what happened to her husband, she hopes that she will save other lives.
The optional policy for wearing a vest was instituted in Buffalo several decades ago, when the department started issuing the body armor, and the policy has not been updated. Police brass are reviewing whether to change the policy, but it has not become a major issue, in large part because just about every officer wears one.
"You would be hard-pressed to find an officer who doesn't wear the vest," one patrol supervisor said.
Police Commissioner Daniel Derenda said that "officers are strongly encouraged to wear their vests" and that most of them follow the advice.
In Erie County, most law enforcement agencies have "mandatory-wear policies" for vests, said West Seneca Police Chief Daniel M. Denz, vice president of the Erie County Chiefs of Police Association. "It is required in order to participate in the federal Bulletproof Vest Partnership grant," Denz said.
In recent years, the construction of vests has dramatically improved from when he started in 1989.
"It is like wearing a seat belt," he said. "The vests are effective not only for confronting somebody with a gun, but they also protect in cases where someone has an edged weapon or if you are involved in a car crash."
Even if a higher-caliber bullet penetrates a vest, an officer has a much greater chance of survival, Denz said. "They're not always bulletproof," he said, "but for the most part, they do their job."
Orleans County Sheriff Scott D. Hess says he is certain his deputy of 10 years survived the March shooting because he was wearing his vest. "Deputy DeFilipps was shot twice," Hess said. "There are two holes in his vest. One of the bullets — the one that hit his stomach — lodged in the Kevlar area."
DeFilipps killed the gunman during the shootout, after answering a 911 call from a woman who said a man with a gun was in her Town of Shelby home and then chasing the suspect.
"There were a lot of emotions running through his mind. He suffered bruises and was grateful he wasn't injured worse," Hess said. "My deputy was defending his life; and not only his, but the lives of other officers."
Tortorella said the vest is one of the most important parts of his uniform. "It goes without saying that any time you identify yourself as a police officer, you have your vest on," he said. "I even wear the vest when I am doing a public speaking engagement or when I'm teaching at the Niagara County Law Enforcement Academy — everywhere."
As in Orleans County, deputies in Erie and Niagara are required to wear vests. "A couple years back, we sat down with unions representing road patrol and jail management, and everybody at the table agreed that it was in the best interest of management and labor to come up with a mandatory-wear policy," Erie County Undersheriff Mark N. Wipperman said. "The road deputies wear the vests all the time and the jail deputies wear the vests when they are transporting prisoners on court runs or to the hospital."
In Niagara County, the policy is the same.
"Each vest is measured and sized for the individual deputy," Chief Deputy Steven C. Preisch said. "I wear mine all the time. They've gotten lighter and lighter as technology advances and are more comfortable. When deputies leave the building, there's a mandatory-wear policy."
Every law enforcement agency should mandate that its officers wear vests, said Tortorella, who survived the Wheatfield shootout that ended when the gunman took his own life.
"I have no idea why someone wouldn't have a vest on at all times," Tortorella said. "There is absolutely no reason for not wearing a vest."
Copyright 2015 The Buffalo News
McClatchy-Tribune News Service
Request product info from top Police Body Armor companies
Thank You!