LAPD Chooses U.S. Armor as Sole Supplier for its Carriers
---
Georg Olsen, General Manager of U.S. Armor Corporation, is joined by Asst. Chief Sandy Jo MacArthur and Dep. Chief Terry Hara of the Los Angeles Police Department at the recent CA POST Statewide Training Managers Conference, hosted by the LAPD and Co-Sponsored by U.S. Armor.  Chief MacArthur is the LAPD's Director of the Office of Administrative Services and Chief Hara commands their Personnel & Training Bureau. 
Chief Hara led the LAPD's Uniform Shirt Carrier for Body Armor project.  After an extensive two-year  Test & Evaluation process, U.S. Armor has emerged as the sole authorized supplier of the carrier for this prestigious Agency, well-known for their leadership in establishing professional uniform appearance standards for law enforcement throughout the world.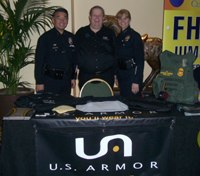 Request more product info from U.S. Armor Corporation
Thank You!