Survival Armor provides testing gear for Wyoming police department
---
Laramie Police Department is testing new body armor to protect officers and reduce long-term back injuries
LARAMIE, Wyo. — Laramie residents might notice a slight difference in their local police officers in coming months as the department tests a new kind of body armor, provided by Florida-based manufacturer Survival Armor.
Every officer in the Laramie Police Department is required to wear a ballistic vest while in uniform, said Lt. Gwen Smith of the LPD. The ballistic vests, she said, are worn underneath officers' shirts. Smith said these interiorly worn vests have some disadvantages.
In response, Smith said the department has been interested in exterior ballistic vests for the last 3 – 4 years. The impetus, she said, was back problems from carrying heavy-duty belts.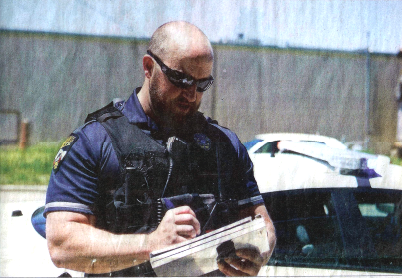 "Initially, one of our officers had gone someplace and saw an agency that had the exterior vests, and what they learned when they talked to those folks was that they were able to put equipment on the vests, which was helping officers with some back issues," Smith said. "The duty belt can weight up to 20 pounds – we have required equipment we have to carry on our belts – so a lot of officers have back problems from wearing the duty belt every day."
Not only are the interior vests less comfortable for officers in Laramie's warmer months, but Smith said they also could potentially impede an officer's ability to react quickly to some situations.
"One of the other really nice things is they're cooler because they're not right up against your skin," Smith said.
"Our vests we currently wear have adjustable straps on the shoulders and side so they can fit correctly. You wear a T-shirt or something underneath, then you put your vest on, then you put your uniform shirt on and tuck it all in –you can't get to that vest to adjust it. You'd have to halfway undress to get to it."
The exterior vests come with a cummerbund underneath, allowing for easy adjustment and better airflow.
In addition, if officers need to remove the vest quickly in the line of duty – say, to enter a body of water – Smith said they can do that.
In the past, Smith said ballistic vests were worn underneath uniforms because criminals would not know the officers were wearing protection from firearms, so they were more likely to shoot at the vest. Today, that's changed, which allows for more options with ballistic protection, she said.
"I think you would be hard-pressed to find anyone that doesn't know patrol officers most likely have a ballistic vest on, so the surprise of it is gone," Smith said.
The LPD is currently testing two types of vests provided by Survival Armor for six officers. One has set pouches on the vests, and the other type has adjustable "Molle" Velcro attachments, similar to what might be seen on military or special response team vests.
Some items currently on officers' belts – such as handcuffs or pepper spray – can be moved to the vest pouches, though Smith said gun holsters would remain on officers' hips.
The panels in the vests, which actually provide protection to the wearer, are made-to-fit for each officer, and must be replaced every five years, said Smith. As the department rotates through vest replacement every four years, the exterior carriers could be phased in if the decision is made to go that route.
"A fourth of the department gets new vests every year – and that's already in our budget – so we would continue with that, just buying an exterior instead of interior vest," Smith said." "It would be lovely if we could get everyone on patrol in those exterior vests right away, but we are in some difficult budget times, so we have to be as careful with our money as we can.
"There's no reason to get rid of vests that aren't out of warranty."
There are 49 officers in the LPD, but that number will drop to 47 as the recently adopted biennial city budget calls for the elimination of the two full-time equivalent positions.
Smith said they are hoping to see less long-term injury to officers, which could potentially save money having healthier employees that cost less in compensatory expenses such as medical bills and workers compensation.
About Survival Armor
Located in Fort Myers, Florida, Survival Armor® has brought together some of the best minds from the US ballistic protection industry combining well over 100 years of experience. Survival Armor® goes beyond the standard NIJ template for producing armor, designing a highly-wearable product that maximizes coverage and protection.

Request more info from Survival Armor
Thank You!