Unprecedented police protection: Game changing iiia+ body armor by Safe Life Defense
---
If there is one body armor company to watch this year, it is undoubtedly Safe Life Defense. After taking the industry by storm with their Multi-Threat NIJ Level iiia Vest, they are already looking to the future. Impressively versatile, their flagship concealable vest not only stops bullets, but also protects against strikes and slashes– making it truly worthy of the name Multi-Threat. However, President Nick Groat knew that to lead future of personal protection, he had to push the envelope. The result? Safe Life Defense just released their ENHANCED level iiia+ body armor, currently the ONLY soft body armor able to stop Liberty Civil Defense 9mm & FN 5.7×28 40gr AND provide stab protection up to 36 joules of force. The test results are in – this vest defends against these traditionally armor piercing rounds consistently and beautifully, with minimal backface deformation.
President Nick Groat discusses the need for this extreme level of protection:
"Here at Safe Life Defense, we know adaptability is at the core of optimal personal protection. I wanted to engineer soft body armor that protected against multiple threats, including rounds that are known for their body armor piercing capabilities. Safe Life Defense chose to release this new technology at the same time as our new First Response Carrier because we felt that it would be a huge resource for security professionals, EMS, and of course, our police force. They face unique threats every day, and I wanted to create a vest that would make them ready for anything."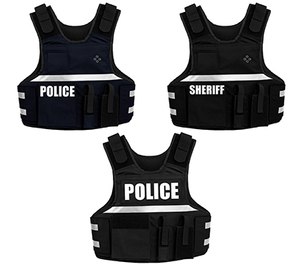 Make no mistake, combining their thoughtfully designed First Response carrier with their exclusive Safe Life Defense Enhanced iiia+ ballistic panels is a bonafide game changer. Created to refresh and modernize protection for professionals, the NEW First Response Carrier shows Groat's ability to concentrate on the little details that make Safe Life Defense the most comfortable and versatile body armor on the market. First, they took everything from their classic best-selling concealable vest – bullet, strike and slash resistance – and created a carrier with features that perfect the traditional Police carrier. It contains details such as recessed Velcro so that patches lay flat, a radio pocket that can also accommodate magazines, an engineered cut for unrestricted movement, and – this is where Safe Life Defense shines – the ability to fully customize YOUR vest to YOUR needs. On the Safe Life Defense website, they have an area to create your own carrier with multiple options such as color, style, patches, and reflective materials which allows for a high level of customization while remaining extremely cost effective. Upgrade to their enhanced iiia+ ballistic panels, and you gain NIJ level 1 spike protection (up to 36 joules of force) AND protection against Liberty Civil Defense 9mm & FN 5.7×28 40gr. Your search ends here - the Safe Life Defense NIJ Level iiia+ Enhanced Multi-Threat Vest is the ONLY soft body armor to achieve this level of advanced protection.
President Nick Groat discusses his vision for his new products and keeping police safe:
"Our society needs a strong, confidant police force. Therefore, I wanted our First Response Enhanced Multi-Threat Vest to offer an extreme level of protection. It was very important to me to load as much protection as possible into our Enhanced iiia+ body armor so that the brave people who keep us safe can feel safe too. In addition to stopping Liberty Civil Defense 9mm & FN 5.7×28 40g, our Enhanced panels provide NIJ level 1 spike protection. Safe Life Defense believes everyone deserves to feel safe - that really is why "multi-threat" has become the new standard."
To learn more about this exciting new body armor, you can visit their website at SafeLifeDefense.com or email President Nick Groat personally at Nick@SafeLifeDefense.com. Safe Life Defense considers feedback from their clients instrumental in shaping their company, and they love to hear from the people who wear their vests daily. They plan to save lives and shape the future of safety, and they want you on their team.

Request more info from Safe Life Defense
Thank You!