L3 Mobile-Vision launches the BWX-100TM Body-Worn Camera with in-car integration & remote viewing
---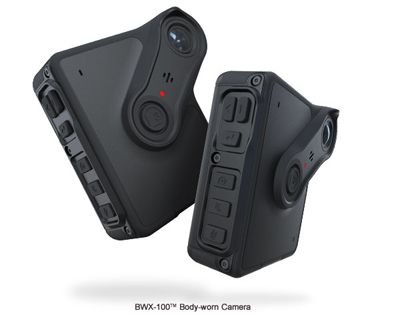 ROCKAWAY, N.J. — L3 Mobile-Vision, Inc., announced today the launch of its enhanced body-worn camera, the BWX-100™. This newly designed body camera integrates with L3 in-car systems, each triggering the other when recording begins. Additionally, the BWX- 100, which offers a 140-degree diagonal field of view, can be used with the companion LE Connect Mobile™ app. 
"By cross-triggering recording between the BWX-100 body-worn camera and our Flashback3™ and FlashbackHD™ in-car video systems, agencies with current units can easily integrate the new BWX-100 with their existing systems," said Gautam Gole, Acting Vice President and General Manager of L3 Mobile-Vision, Inc. "Additionally, with full HD recording capabilities, officers can record evidence during a standard shift, then review video content via the LE Connect Mobile app over a wireless link to their smartphone. The app is available for both iOS™ and Android™." 
The enhanced BWX-100 also eases officer/device interaction with an alphanumeric LCD screen, tactile buttons and the ability to tag videos in the field. As with previous iterations, the platform provides a fully integrated evidence management system with the ability to add notes, photos and other digital evidence into one case file. 
"We've listened to the demand from our agency partners," Mr. Gole added. "And now the BWX- 100 meets and exceeds those needs." 
The BWX-100 launch is the first in a series of new developments designed to advance evidence collection, value and usability for agencies. 
"L3 Mobile-Vision is in the midst of building a new video evidence capture ecosystem," said Eric Hsieh, L3 Mobile-Vision's Senior Manager of Product Management. "Designed to lay the foundation for an IoT-enabled smart solution, the BWX-100 is the first installment of an ecosystem that will provide actionable intelligence to law enforcement agencies." 
About L3 Mobile-Vision
For 30 years, L3 Mobile-Vision has delivered rugged and reliable equipment and systems that allow agencies to capture, manage and communicate critical information in a safe, secure and effective manner. For more information, visit www.mobile-vision.com 
About L3 Technologies
Headquartered in New York City, L3 Technologies employs approximately 31,000 people worldwide and is a leading provider of a broad range of communication, electronic and sensor systems used on military, homeland security and commercial platforms. L3 is also a prime contractor in aerospace systems, security and detection systems, and pilot training. The company reported 2017 sales of $9.6 billion. To learn more about L3, please visit the company's website at www.L3T.com. 
Safe Harbor Statement Under the Private Securities Litigation Reform Act of 1995
Except for historical information contained herein, the matters set forth in this news release are forward-looking statements. Statements that are predictive in nature, that depend upon or refer to events or conditions or that include words such as "expects," "anticipates," "intends," "plans," "believes," "estimates," "will," "could" and similar expressions are forward-looking statements. The forward-looking statements set forth above involve a number of risks and uncertainties that could cause actual results to differ materially from any such statement, including the risks and uncertainties discussed in the company's Safe Harbor Compliance Statement for Forward-Looking Statements included in the company's recent filings, including Forms 10-K and 10-Q, with the Securities and Exchange Commission. The forward-looking statements speak only as of the date made, and the company undertakes no obligation to update these forward-looking statements. 

Request more product info from Mobile-Vision, A Safe Fleet Brand
Thank You!