COVID-19: How public safety companies are assisting the frontline pandemic response
The businesses that equip and serve first responders are supporting the national emergency response with new products, free services and donations
---
By Staff
Public safety personnel are on the frontlines of the COVID-19 pandemic response. EMTs and paramedics are assessing, treating and transporting patients. Firefighters and police officers are supporting their EMS colleagues and continuing to respond to the everyday emergencies from fire alarms and motor vehicle collisions to property and violent crimes.
While public safety personnel are on the frontline, many companies, from major multinationals to local businesses, are supporting first responders with new products, logistical and technical expertise to procure PPE or support operations, or free or deeply discounted products for departments, personnel and the families of public safety personnel.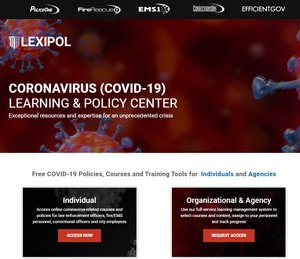 Product launches for COVID-19 response
Pulsara, a healthcare communication platform, launched a free COVID-19 management package. The platform seeks to facilitate remote communication between healthcare providers and facilities, as well as between providers and patients, to help organize responses during the pandemic and limit exposures to the disease. Pulsara also released Pulsara Patient, a new mobile application, for patient-to-provider real-time, remote communication.
ESO, a data and software company serving EMS, fire departments and hospitals, launched a publicly accessible COVID-19 Resource Center with key data elements, including provider impression of COVID-19 infection, PPE use and patient disposition, all updated daily to help keep the industry informed.
First Due, a pre-incident planning, mobile response, and community engagement platform, released Community Connect for COVID-19. The no-cost nationwide portal helps departments track and manage COVID-19 and high-risk occupant data. The secure, HIPAA-compliant platform allows anyone to self-report COVID-19-related information, which is instantly made available to public safety officials.
The Merit ReadyNow program allows states to verify healthcare provider credentials instantly and mobilize those providers to areas where they are needed most. Merit is giving all states a digital licensing and verification program to help medical professionals respond to COVID-19 across state lines and at no cost.

Bryx, a leading provider of first responder technology products, has launched a new COVID-19 Critical Warning banner within its free Bryx 911 mobile alerting application. Keywords associated with the virus are systematically pulled from the supplemental data, triggering a banner that informs first responders of possible cases in which safety protocols and equipment may be necessary.

Levrum has created a COVID-19 effects simulator to help organizations gauge the impacts of different epidemiology parameters for the pandemic on the organization's ability to respond, based upon disease incidence progression in the community and the rates of exposure and transmission to operations staff. The simulator has seven parameters to simulate the impact of COVID-19.

Vitals Aware Services, developer of the Vitals App, has launched a new feature on its app allowing first responders and other care providers to identify and treat people who have, or are most susceptible to contracting, COVID-19. The safety app with the new COVID-19 feature is available to all first responders, public health care providers, hospitals and clinics in Minnesota free of charge.
In-kind and monetary donations 
Discounts for departments, personnel and their families
Axon, in the interest of public health, it is providing global access to the full feature set of Axon Citizen, at no cost this year, to every agency that is not currently using the digital evidence platform. Police officers can gather digital evidence from the community by sending a personalized link via text message or email from Axon's digital evidence management platform, Axon Evidence, or the Axon Capture mobile app. This eliminates the need for in-person interaction and helps to minimize officer exposure to COVID-19. 
DJI, to support public safety operations in combatting COVID-19, activated its Disaster Relief Program. The program mobilizes the resources of DJI and its network to equip qualified police, fire and rescue services across the United States with equipment and support through product donations, extended loan programs, priority service and expedited repairs and product training.
MODULO, a FirstNet-certified push-to-talk smartphone app is currently available for free use to assist medical and other in-field staff serving in temporary hospitals for COVID-19 patients. The MODULO app can be installed on a smartphone and can be used on the FirstNet LTE network, eliminating the need to purchase handheld radios.

Beekeeper, a communications app for frontline workers, helps managers reach their employees with consistent and accurate information fast. Beekeeper now offers a free Crisis-Ready Kit that gives organizations 30 days of no-cost access to the Beekeeper platform in order to help them to communicate with their employees and navigate the current COVID-19 crisis.

The Redivus Code Blue app, which provides clinical guidance and documentation for cardiac arrest patient care, is available for no charge through July 1, 2020, to any individual or organization in the healthcare profession. Use the code SAVELIVES to start using Code Blue. 

Taylor and Francis, an academic publisher, is offering free access to all relevant COVID-19 research articles, book chapters and information in support of the global efforts in diagnosis, treatment, prevention and future research.

Starbucks is offering free coffee for all frontline workers during the pandemic, and has also donated $500,000 to two charity organizations supporting first responders and healthcare workers. 

TextBehind, an inmate mail management company, is offering mail management software and services to correctional facilities nationwide in response to the COVID-19 crisis at no cost.

National University is offering support to public safety professionals, their colleagues and their dependents with three months of free online classes to any California college student impacted by COVID-19.

CrimeCenter Software, a provider of cloud-based, CJIS-compliant, police case management tools, is making its Citizen Portal reporting platform free to help law enforcement agencies improve officer safety and work remotely to combat the spread of COVID-19. Citizens can report on an expanded list of crimes and other incidents through the online platform, minimizing in-person interactions while maximizing information sharing.

Anyline, a provider of smartphone-based scanning technology, will offer its solutions for free to emergency, security and logistics services to combat the spread of COVID-19. The technology enables healthcare providers to record patient information in seconds by scanning identification details and gives security forces the ability to check passports, IDs, driver's licenses and vehicle license plates.

Zello, a push-to-talk voice messaging service, announced that its enterprise-grade solution is now available at no cost to first responders. The Zello for First Responder program includes location history, facilitated by Google Maps, a searchable centralized archive of all communication, a dispatch communication solution and the ability to send photos and messages to groups of up to 8,000 users.

Apex Mobile, is giving all public safety agencies a free Apex Mobile COVID-19 app dashboard that is designed to help public safety officials inform their communities informed on COVID-19. The dashboard features links to up-to-date information, the ability to send COVID-19 alerts and local closing notifications.

Nearmap is making its high-resolution aerial imaging available free of charge to state, local and county health officials and government agencies for COVID-19 relief effort planning. The detailed images can be used to plan emergency response mobilization centers, determine proximity to medical clinics and hospitals, and provide visibility of the site for planning parking, line logistics and more.

MP Cloud Technologies is offering its EMS billing software, AdvanceDispatch and AdvanceClaim, as a work remote solution for continuing to process EMS ePCR claims. During the pandemic, MP Cloud CARE program will waive implementation fees and offer flexible payment terms.

CrewCare, a free mobile app originally designed for first responders, is now available for additional healthcare workers such as physicians and nurses. The free download from the Apple App Store and Google Play is from ImageTrend, Inc., and has been enhanced with COVID-19-related questions to capture the stressors that healthcare workers and first responders have been dealing with since the outbreak.

Owner Insite is offering its construction and asset management platforms for free to any organization on the front lines of fighting COVID-19. These platforms can be used to helps organizations manage construction projects and manage all aspects of an asset, including receiving, disseminating and tracking product requests and various status updates.

Cigna and Humana are waiving costs for testing, deploying data and technology to coordinate care with doctors and hospitals, speeding the move of non-COVID-19 hospital patients to alternative care locations, and utilizing our own doctors, nurses and care managers to open new pathways to care.

Rajant Corporation has made its private wireless network for mobile field hospitals and pop-up, health treatment shelters immediately available. Rajant is sharing six Emergency Response Rapid Deployment Kits with the U.S. government so Washington D.C. leadership can send Rajant's technology and support teams to where it deems most necessary.

CRIMEWATCH, a two-way communication platform between police and residents, is free for police departments and citizens submitting a report. Several communities have recently implemented CRIMEWATCH in response to the COVID-19 outbreak to reduce face-to-face non-emergency interactions for reporting non-emergency/not in-progress crimes.

Securus Technologies is working with corrections facilities to support incarcerated individuals with low-cost and free communications services during the COVID-19 outbreak. As correctional facilities adjust protocols to keep facility staff and the incarcerated safe, Securus will support their effort by providing nearly 2 million free phone calls, 2 million free video connections and 2.5 million free JPay Stamps.

ECCO is waiving all drop-ship and handling fees for its distributors during April. ECCO develops, engineers and manufactures a complete line of commercial vehicle lighting and safety solutions designed to enhance worker and public safety.
If your company is supporting the frontline public safety response to COVID-19, you are welcome to contact the Lexipol digital media team to share how you are assisting and supporting EMTs, paramedics, firefighters, police officers and corrections officers. 

Request product info from top Police Communications companies
Thank You!