How to secure and protect one of your most important tools in the field
The LaunchPort Rugged System by iPort offers rugged protection, wireless charging and convenient access for your iPad
---
Sponsored by iPort
By Dalan Zartman for PoliceOne BrandFocus
Like the rest of society in the past two decades, emergency services have seen a radical transformation in technology and the role it plays in our lives. At my own department and public safety departments around the world, data collection and electronic access to that data are increasingly essential to our missions and daily tasks. Uses include reporting, transmitting and receiving information, tactical plans, dispatching systems including GPS and mapping, mobile command and accountability and the list goes on. With technology touching so many of our responsibilities and job requirements, there are constant improvements being made in both hardware and software to meet our evolving needs.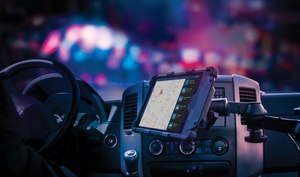 We are always on the lookout for product innovations that solve problems and make our jobs easier, safer and improve efficiency.
The LaunchPort Rugged System is already being used by public safety agencies throughout the U.S. to secure and protect one of our most important tools –  the iPad.  The iPad's portability and versatility has made it a go-to choice for connecting first responders to mission-critical information at the station, in vehicle, and in the field for note-taking, photo documentation and data sharing.
A RUGGED MOUNTING SOLUTION
So, what is it and what does it do for us? In a nutshell, the LaunchPort Rugged System is an incredibly rugged mounting solution for iPads that wirelessly charges your device. It retails for $499.00 and includes a rugged case and wall station.
The rugged case is completely encapsulating while still providing access to operate buttons and a place to store iPad pencils.
The WallStation, which can also be mounted in a vehicle, is a wireless charging mounting plate with magnets that effortlessly connect to the rugged case.
The system can be easily installed in any vehicle using a 75/100 millimeter VESA pattern.
There are also accessories available, including a BaseStation for charging back at the station, as well as shoulder straps, handles and other mobile support options.
To understand what it does for us and the problems it solves, we need to discuss a little technology history in emergency services and where we are at today.
THE TREND TOWARD IPADS
When we first started integrating mobile technology on our vehicles, we were all primarily using rugged laptops known as tough books. These require elaborate mounting solutions and plugs and wires. With the development of tablets, most departments started transitioning away from tough books and other computers or laptops for financial, ergonomic and support reasons. IPads in particular have maintenance or service support from Apple and are compatible with the vast majority of software systems that we all use. They are significantly more affordable than tough books and laptops and much more ergonomic. As end users have gravitated towards iPads, they have to look to outside solutions for mounting, power sourcing and protection.
THE CHALLENGE WITH RUGGED CASES
The challenges we currently face with this side of the iPad equation are multifaceted. There are a lot of MIL SPEC rugged cases on the market, but they all have small caps or covers over the ports. To charge these devices, we have to use a plug-in charging cable to maintain power. This requires us to constantly manipulate the cover and move the charging cable around to our different workstations. Additionally, the covers eventually get worn out and tear off, rendering the port unprotected. We also have to ensure that the apparatus mounts for the devices can be maneuvered into our desired position for access and will retain the device safely if we are in an accident or bump into the mount. The NFPA 1901 standard  for Automotive Fire Apparatus requires mounting systems to safely retain the device when subjected to 10.6 Gs of force.  This same standard is even more important for law enforcement vehicles as they travel at higher rates of speed and perform much more aggressive maneuvers.  The solution has been to have docking stations that lock the device down and can be unlocked when we want to remove the device.
THREE ADVANTAGES OF LAUNCHPORT RUGGED SYSTEMS
Now that we've outlined some of the challenges with iPad support systems, here are some of the solutions that the LaunchPort Rugged System provides. iPort has created three focal points in their design process: Hold, Charge, and Protect.
Hold: The wall station and universal box can be mounted as universal docking and holding ports in the stations and on the apparatus. While they remarkably meet the MIL SPEC 10.6 G force test to retain the device magnetically, the device can also be easily removed from the mounting magnet when you want to go mobile. The mount also accepts easy drop in and manipulation to change the device from portrait orientation to landscape. As soon as you feel the magnet start to pull the device, simply let the device drift to its natural resting place and it's seated. No more lining up prongs and toggles and wrestling with the device to get it to seat properly into the mount.
Charge: At last! LaunchPort is one of the only inductive charging magnetic mounting systems on the market. Wherever my mounting stations are, in the dispatch room, office, vehicle, or on my lap, as soon as the device is seated on the magnet, it is charging. The apparatus mount requires a 12-volt power source from the fuse panel and all wiring can be housed within the universal box. An alternative charging option includes the Base Station, which is powered using a traditional 110/220-volt power supply.  That the means the system can easily travel into the coffee house on break even to complete reports.
Protect: Let's just say that this rugged case lives up to its rugged name. This system has been rigorously tested for over eight years and one million plus over-the-road miles. Whether it's dropped, falls from your vehicle or is tossed around with the rest of your gear, both the iPad and the case remain intact.
The only limitation, if you want to call it that, is that the LaunchPort is only compatible with 9.7-inch iPads. It does not support other manufacturer's tablets or other sizes of Apple products such as iPad minis. One of the unique advantages of the LaunchPort system is the universal box and its ability to seamlessly marry up with other mounting arms. This allows us, the end users, to integrate the LaunchPort without the expense of dismantling existing platforms.
The versatility and truly mobile support with inductive charging offers us a solution that really meets the unique requirements of the public safety environment. As always, stay safe and train hard.

Request information from iPort
Thank You!