Spotlight: Pryme Radio's superior products & service meet agencies' needs & budgets
We make and customize everything ourselves
---
Company Name: Pryme Radio
Headquarters: Brea, CA
Signature Product: RESPONDER™
Website:  http://www.pryme.com/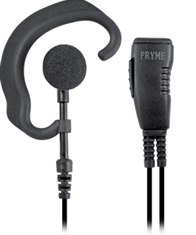 Intro: For over 25 years, PRYME Radio Products has been a leading manufacturer of high quality products to professional users of two-way radios. Our product line serves many markets including public safety, police, fire, emergency services, tactical and hazmat professionals, as well as industrial, commercial, hospitality and entertainment markets.
Where did your company name originate from?
It was derived from our original name, Premier Communications Corp.  Providing unmatched customer service and top-quality products at an affordable price have always been the two most important objectives with our company, hence the "Premier" part of our original name. Though the company name has changed, our dedication to customer service and product quality remains the same.
What was the inspiration behind starting your company?
Our founder and his wife first entered the market selling high performance antennas for amateur radios. Soon thereafter customers began to ask for other accessories, such as speaker microphones and earphones, which prompted product development in these categories. Pryme opened its U.S. office in 1992. Since that time, Pryme has expanded to become one of the leading radio accessory manufacturers, holding an astounding 35 patents.
Why do you believe your products are beneficial to the police community?
Facing ever-decreasing budgets, our customers need an alternate source for communication accessories that meet their rigorous requirements, but at a lower cost than other suppliers, which is where Pryme comes in. We provide top-quality products that many of our customers can afford to purchase out-of-pocket, independent of their agency budget. Not only are we able to supply better quality products at affordable rates, we readily customize existing products and solutions to individual customer requests. In fact, many of our product features are the direct result of customer-inspired modifications. We have an excellent reputation for truly listening to our clients and applying their feedback to future product innovations.
What has been the biggest challenge your company has faced?
Supporting the hundreds of different makes and models of radios our customers use can be a bit challenging, but we are one of the only companies who can keep up. We do a lot of OEM for radio manufacturers and competitive companies who aren't able to supply so many specialized 2-way radio connectors, mics and headsets.
What makes your company unique?
We design, build and test all our products, and further customize those products to meet individual customer needs. Our manufacturing facility is located in Taiwan, which means Pryme accessories are built to meet higher quality standards than products assembled in other countries. We are able to provide customers with a money-back guarantee and automatic replacement with warranty. Further, most of our people came from the radio manufacturing industry, so they know the business inside and out. And last but never the least, customers always come before our company here at Pryme.
What do your customers like best about your products?
Our service and support is #1…customer satisfaction is our top priority! We tailor and design products to specific requests, offer automatic replacement when necessary and guarantee the highest levels of purchase satisfaction or your money back.
What is the most rewarding part of serving the first responder community?
Our customers are great and really appreciate our products and services; we have cultivated a strong bond with this industry throughout our 25 years in business. It is truly an honor to have earned the trust and respect of the first responder community, especially considering their courageous efforts and the critical services these folks provide on a daily basis.
Do you support any charitable organizations?
Pryme supports many agencies with both cash and product donations. We are especially fond of the K9 service.
Is there any fun fact or trivia that you'd like to share with our users about you or your company?
Most people think we are a Chinese-based company, but in fact, our owner and most of the engineering team are all from Taiwan.
                                                                                
What's next for your company? Any upcoming new projects or initiatives? We will be emphasizing more on wireless accessories including new Bluetooth Low Energy (low power drain) devices that cross between two-way radio use and Smartphones.