Will your training support your next violent confrontation? It should and it can.
---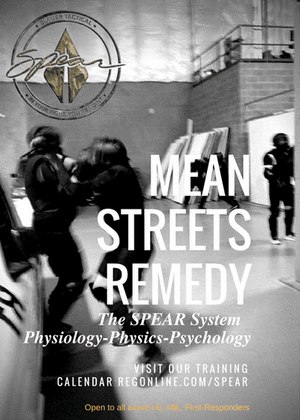 Watch this short video of highlights from the SPEAR SYSTEM: CONTROL & ARREST WITH DEADLY FORCE OPTIONS:https://www.youtube.com/watch?v=_a2Qlw1Y7ho
Don't see a course near you? Email ask@blauertactical.com for hosting information.
See the entire BTS Calendar here. 
ACTIVE DUTY
OPEN COURSES
     https://spearsystem.regfox.com/byob-ames-ia
GET YOUR AGENCY INTO HIGH GEAR: SPECIAL PRICES FOR AGENCIES
VEHICLE STOP GONE BAD
High Gear allows you to pressure test and refine your tactics. Click here to see High Gear in action and visit our website for more information. Email ask@blauertactical.com for an estimate.

Request more info from Blauer Tactical Systems
Thank You!