Register for Your Chance to Win a Monthly $1000 Gear Giveaway from the Public Safety Manufacturers Group
---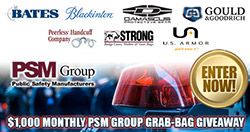 Gloucester, MA - Win a Monthly $1000 Gear Giveaway from the PSM (Public Safety Manufacturers) Group. Each FACEBOOK MONTHLY GRAB BAG is worth over $1,000 worth of gear. Simply like our Facebook page and complete the following form on this page (http://www.psmg.net/giveaway/) for your chance to win! Don't have a Facebook account? No problem, Click here (http://www.psmg.net/enter-giveaway/) for the alternate sign-up form.

By signing up through our Facebook form you will not only be eligible to win terrific prizes from the PSM Group members, but you will also see the latest member news through our Facebook status updates. This includes special offers from our members, bonus product giveaways, and product highlights.

Please use our Facebook button for adding the PSMG like button to your online postings. For our Facebook button HTML code click here.

The PSM Group monthly prize awards are made up from generous donations from these leading public safety manufacturers: Bates Footwear, Blackinton. Damascus Protective Gear, Gould & Goodrich, Peerless Handcuff Co., Strong Leather Co., and U.S. Armor.
More on the PSM Group - The PSM Group is comprised of independent, non-competing, quality driven manufacturers working together to generate ideas, reduce costs, and foster innovation. We will help to bring product excellence, business integrity, personalized service, and strong, stable long-term relationships to our end user and distribution network customers, both now, and well into the future.

We are teaming together to share resources and reduce costs with the goal of helping our companies and our dealers to continue to "survive and thrive" in this very competitive marketplace.
www.psmg.net

Request more product info from Public Safety Manufacturers Group.
Thank You!