Dress for Success with DeSantis' New Thigh Hide Holster
---
Marriage these days is such a challenge. The whirlwind romance that brought you together in Bogota? It was a farce. Then when you're assigned to "retire" a target, your husband shows up and botches the job. Worst of all, you discover your hubby John Smith isn't a travelling sales exec, but a skilled assassin who may be setting his sights on you next. And tonight you've got a black tie dinner with him. Pants or shorts are not an option. Are you going to let wardrobe limitations compromise your ability to carry concealed and protect yourself? What's a girl assassin to do?!
DeSantis has a new secret weapon for Mrs. Smith and femme fatales everywhere. For ladies who want to bare some leg but still need to bare arms: the new Thigh High holster is here. Our first concealed carry option designed by and for women, the Thigh High is both comfortable and stealthy. When jean shorts or pants would be a serious faux pas, this cleverly designed thigh holster permits the female firearms fan to conceal beneath any skirt or dress without betraying her secret.
Whether you're on a hate-date with your lying, hit-man husband, or just out for date night, weapon slips and slides will not be on the itinerary with this superior womens' holster. Unlike your "friends" in the assassin business, the Thigh High is designed to be 100% reliable. A specially designed Velcro seal keeps your small frame revolver or auto from tipping or toppling while you Tango. Twin garter straps provide additional security to ensure your weapon stays in place. After all, you don't want to be searching for your sidearm once you've made your "mark" (even if he is your husband).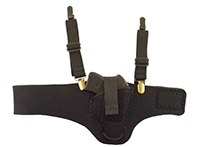 No need to lose the dress; carry for success! DeSantis Thigh High: the pinnacle of holsters for women and a bang-up choice for lady killers everywhere.

Request more info from DeSantis Holsters
Thank You!