Signed, Concealed, Delivered: DeSantis Bag-Packer is No Loose Cannon
---
Loose cannon. It's not one of those phrases you often hear uttered in a positive light. But in reality, "loose cannon" represents all that is awesome about America.
The phrase was never really used by sailors in the 1700s when there were actual warships with actual cannons potentially rolling around on their actual decks. The idea of a "loose cannon" was invented by a French guy writing fiction (Victor Hugo) and was then popularized in English by none other than Teddy Roosevelt…when he used it to describe himself (!). Only a great American like T.R. could resuscitate a dead French phrase and then turn the negative connotation on its head to positively describe his larger-than-life persona. (Kind of like what New York did to the word "yankee".) That's salty American ingenuity at work!
But other than T.R., the folks at DeSantis prefer NOT to have any loose cannons on deck. Or in their pockets. Or in their waistbands. Or anywhere else, thank you very much! In fact, they like their concealed firearms to be safe, secure and right where they need them to be at all times.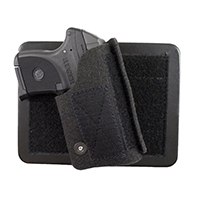 It's why they invented the audaciously practical Bag-Packer universal holster. This versatile ambidextrious holster can make almost any purse or briefcase a safe and secure concealed weapons cache. This Bag-Packer's insert component has suspender clips and an adjustable c-clip, which secures this concealed holster firmly inside said bag or briefcase. Every Bag Packer includes two adjustable holsters that will accommodate almost any gun model. Better yet, this concealed holster's hook and loop mating surfaces allow almost infinite position adjustments, so you can customize your "cannon" position for best reach.
So then the only question is, which is more American: T.R.'s reinvention of the phrase "loose cannon" , or DeSantis ingenious solution to reeling in a REAL loose cannon? Only history can decide.

Request more info from DeSantis Holsters
Thank You!