Stallion Leather Introduces the First Duty Holster Specifically Designed for the New Crimson Trace Glock G-Series Lasergrip®
---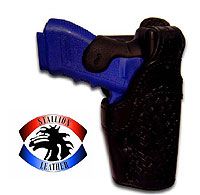 Stallion Leather is pleased to announce the development of the first duty holster that has been specifically designed to accommodate Crimson Trace's new Glock G-Series Lasergrip®.
This new holster is a custom tailored version of Stallion Leather's time and field proven Thoroughbred Jacketstyle Duty Holster that incorporates the following features and benefits:
Maximum Sight Protection: Patented sight guard system
Full Grip Knuckle Clearance: Located at the web of the shooting hand for quick/smooth drawing and holstering
Customized Weapon Retention: Easy to adjust tension screws to allow for customized tension and firmness
Maximum Security: Equipped with Kydex® hanger with rib and tension screws to securely fasten the holster to a standard 2.25" duty belt
IMPORTANT NOTE: As a service to the law enforcement and military community, Stallion Leather will honor the Thoroughbred Jacketstyle Duty Holster's Warranty after the Crimson Trace Glock G-Series Lasergrip® has been installed on the firearm!
Crimson Trace, manufacturer's of the world's only grip-integrated laser sight; combining activation switch, laser diode, and power source into a rugged, comfortable grip. The Lasergrip's laser diode is instinctively activated with normal grip pressure!
Whether it is faster low-light targeting, enhanced personal defense capabilities, or just an exciting new shooting experience, Lasergrips will improve shooting confidence.
Crimson Trace Glock G-Series Lasergrip® Features & Benefits:
Instinctive Laser Sight Activation: Laser sight activates with normal grip pressure
Most Powerful Light Beam Allowed by Law: Utilizes a Class IIIA visible light diode that is highly visible at night or in reduced light to distances of several hundred yards away (under bright sunlight, laser dot can be seen up to 15 yards away)
User Defined Point of Impact: Factory default 50 ft. point of impact setting can be easily adjusted to user's individual preference