The ArmsBand Concealed Carry Holster, a New Type of Underarm Concealed Carry Holster Now Available
---
Santa Fe, NM: The ArmsBand® Concealed Carry Holster straps the handgun to the underside of the upper arm positioned similar to a shoulder holster, for easy cross draw under the sleeve of a short sleeved shirt. This method of carry is, new, and convenient for many j-frame sized snub nosed revolvers and especially easy for the small .380 auto handguns like the Kel-Tec P3AT and P32, Ruger LCP,  and a host of other new similar small hand gun offerings.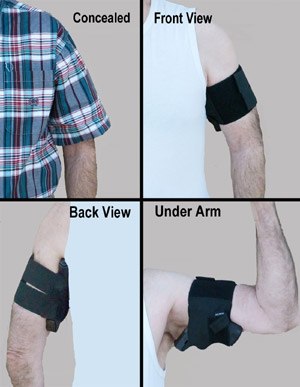 When carrying in public, you can stand with your arms folded across your chest, holding the shooting hand under the bicep on the grip of the handgun without drawing any suspicion from anyone.  On condition orange, you can loosen the strap and ease the handgun partially out.  From this position, drawing and firing may be as fast as clearing your jacket and drawing from the waist.   Even for those who don't carry concealed in public, you can conveniently carry in an ArmsBand® Concealed Carry Holster at home.
There are many types of concealed carry holsters, but none like the ArmsBand® Concealed Carry Holster.  Strong side hip carry or IWB carry are often recommended by the experts and these along with shoulder holsters ,ankle holsters and coat pocket or pants pocket carry are all great options.  The new ArmsBand®  method adds another possibility to our repertoire.  Some LEOs have suggested that ArmsBand® carry is preferable to ankle carry for their backup guns as a leg grab and take down can wind up with the bad guy getting the ankle gun while the ArmsBand® is much more readily and simply defended.
Bill Davis, founder of HD Ballistic Research, states; "Like most of us who see the need to carry a concealed weapon, I've tried a variety of carry rigs, guns and methods. None of them were completely satisfactory for every need.  A shoulder holster always seems like it would work well, but even expensive rigs aren't very comfortable and, of course, always require a covering jacket or coat.  Inside-the-waistband holsters don't work well on my body type and with my preferred clothing such as jeans or khakis with shirts tucked inside my waistband.  Belt carried cross draw holsters or hip carry holsters work for me, but even in winter the covering coat requirement was a problem.  Stopping for lunch might mean I'd be in real warm room and then I couldn't get comfortable because I couldn't take my coat off.  For reasons I never really understood, I couldn't seem to walk right with an ankle holster. I found that carrying my Kel-Tec P3AT in a proper holster in either my pants right front pocket or right hip pocket (when the jeans had a hip pocket deep enough) was the way I went most of the time.  When I thought of the possibility of strapping a small pistol to my upper arm, the idea seemed worth pursuing.  Creating a holster that could be produced in the US of US made materials, patented, and marketed was more difficult than I anticipated, but the idea of a carry method that would work in hot, humid climates and with minimal clothing, was so enticing that I continued until I had developed the ArmsBand® Concealed Carry Holster."
The ArmsBand® Concealed Carry Holster is available at ArmsBand.com for $34.95.  Future development includes larger sizes to accommodate larger hand guns, a quick draw insert and magazine carry.