Alameda County Sheriff's Office Approves Atlas' TacPlates for use with Duty Belt
---
After testing out the Atlas Load Bearing Equipment TacPlates, the Alameda County Sheriff's Office have endorsed the use of this equpiment for their officers. The TacPlates are optional, not mandatory at this point.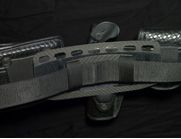 TacPlates represent a whole new way to carry duty gear. Worn under the duty belt, TacPlates distribute the weight comfortably, channel loads away from the spine, and securely couple the duty gear to your hips.
TacPlates are handmade in America from ultra-light carbon fiber. With TacPlates, your duty gear will feel lighter and more comfortable, making you more mobile and agile. In addition to stabilizing the holster during a draw, TacPlates simplify the gear-up process by minimizing the need for extra keepers. TacPlates are compatible with all duty gear, are very difficult to see, and incredibly easy to use.
TacPlates are made from aerospace-grade carbon fiber weave embedded in an all-weather, high durability epoxy-based matrix. High Cycle Velcro and Mil-Spec Nylon form the basis of the attachment mechanisms, ensuring that your TacPlates will always be dependable throughout their lifetime. Atlas will never compromise in bringing you the best, so TacPlates are covered by a lifetime guarantee.
Read what other officer's are saying about the TacPlates. TacPlates come with a risk-free 60-day money back guarantee.