Atlas Load Bearing Equipment Cuts Prices and Now Offers a Lifetime Guarantee on Revolutionary TacPlates
---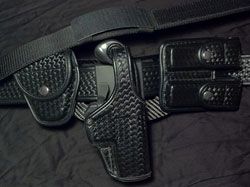 TacPlates™ represent a whole new way to carry your duty gear. These organically shaped, flexible plates contour to your hips' natural load bearing structures. Worn under the duty belt, TacPlates distribute the weight comfortably, channel loads away from the spine, and securely couple the duty gear to your hips.
TacPlates are handmade in America from ultra-light carbon fiber, and weigh less than 2 oz. With TacPlates your gear will feel light and secure, making you more mobile and agile.  In addition to stabilizing your holster during a draw, TacPlates simplify the gear-up process by minimizing the need for extra keepers.
TacPlates effectively implement a new way for weight to be carried on the hips, are compatible with all duty gear, very difficult to see, and incredibly easy to use.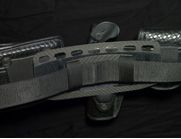 Atlas is proud to announce that improved machining and manufacturing processes have led to a $30 discount passed directly to the consumer.
With you for life
TacPlates are made from Aerospace-Grade carbon fiber weave embedded in an all-weather, high durability epoxy-based matrix.  High Cycle Velcro and Mil-Spec Nylon form the basis of the attachment mechanisms, ensuring that your TacPlates will always be dependable throughout their lifetime.  Atlas will never compromise in bringing you the best, so TacPlates are covered by a lifetime guarantee.
About Atlas Load Bearing Equipment
Atlas Load Bearing Equipment
was formed in 2008 by Stanford engineers Matt Coleman and John Cromie.  Matt & John developed a passion for solving the issue of back pain in police officers after spending time embedded with the Stanford Police Department, and gaining a first hand knowledge of the unnecessary pain endured by law enforcement officers.
Determined to bring innovation to bear, Matt & John took an engineering approach to understanding how the body carries weight.  After consulting with physical therapists, ergonomists and chiropractors, Matt & John developed TacPlates to make standard duty gear conform to the ergonomically correct paradigm of load bearing.