Fobus Holsters Announces the FNH Five-seveN Evolution Series Holster, FNH
---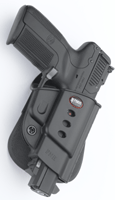 end picture Ivyland, PA—Fobus Holsters, the leader in polymer holsters with the most fits available, is pleased to announce the new Evolution Series holster for the FNH Five-seveN (FNH).
The new FNH Evolution Holster utilizes our proven FOBUS passive retention system that secures the pistol while allowing instant presentation, without the need to disengage mechanical securing devices. Evolution Series upgrades such as an adjustable retention screw, one-piece holster body construction, steel-reinforced rivet attachment system and a protective sight channel have been incorporated. The FNH Evolution Holster is available in right hand paddle (
FNH
), belt (
FNHBH
), roto paddle (
FNHRP
), roto belt 1 ¾" (
FNHRB
), and roto duty belt 2 ¼" (
FNHDB
)
.

For additional information or samples of the new FNH Five-seveN Evolution Holster (FNH), contact Adam Denard or visit
www.fobusholster.com
. Samples available upon request and approval.
About Fobus Holsters
Fobus Holsters, the leader in polymer holsters, is the first manufacturer of injection molded polymer holsters. Bringing the most experience to holster design and making a better holster, used by millions around the world, is our commitment to you. FOBUS Holsters makes holsters for more handgun models than any other injection molded holster manufacturer.