Read What Officers Are Saying About the Atlas Load Bearing Equipment TacPlates
---
TacPlates create a pain-free, ergonomically correct, and stable way to carry your duty gear, freeing you to focus on your job. Read what officers are saying about this revolutionary product: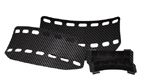 "I've been a patrol cop for 11 years.  I've been using Tac Plates for a few months now.  I have no idea how I worked so long without them.  My belt was never comfortable before, but now I don't even feel it, even after a 12 hour shift.  My hips aren't even sore at the end of the week.  This is by far the best money I've spent on gear.  And the customer service is the best I've ever dealt with, too!"
-
Levi, MPD
"They were night and day for me, it took some adjusting to mount them and a couple shifts for me to get use to them and not be "aware" I had them on and now that everything has found its place they are not coming off. I never really realized how low my rig sat until I put the plates on, my cuff cases use to sit down on my *** and everything would sit on my legs in the car which was annoying and if I cinched the belt tighter to try and keep them higher it would just be uncomfortable. I can have everything in a more natural position and just let the plates keep everything on top of my hips and up off my butt. I have had 0 back pain since I put them on, id recommed anyone give them a shot if youve been on the fence. Naturally everyones body mechanics are different so you might not have a mirror exprience like mine but it will make a difference I dont think there is a way for them not too.
They hang tough too I had confrontation where homeboy tried to pick me up by my duty belt and dump me and everything stayed right where it was suppose to the heavy duty velcro didnt move anything an inch, my baton was right where I needed it so I convinced him to put me back down."
- Name withheld, Eastern PA
"I work a lot of overtime, often for 14 days in a row.  By the end, I needed multiple days for my back to recover.  Since I started using the TacPlate System from Atlas, those long stretches are nothing. I can go 2 weeks of straight 12 hr days and my back doesn't hurt at all.  The TacPlates lock everything in on my belt, to the point where nothing moves, even in a tussle.  I highly recommend the Atlas TacPlates for every Peace Officer."
- Joey, SLPD

"Once it's on, it's good. For me, I enjoy it because I have back problems. I have an L4-L5 degenerative disk, so it took the pressure off my lower back. I don't feel my sciatic nerve going down my right leg bother me as much. It was a good experience for me. You have to adjust and loosen your belt a little bit, just because of the plate, but other than the slight adjustment, the weight on the body itself felt a lot better. … It worked good for me. I felt a difference."
- Matteo, SCSO
"I bought a pair of Tacplates about 3 months ago. I have to be honest, when I bought them I was very skeptical. I really didn't think these could work. I guess I've been lucky, I've never really had back problems, so that was not the main reason I bought them. I'm not sure if wearing them now will prevent back problems or not.
The first thing I noticed about them is how well they keep my duty belt held up. I have always had the problem of having to pull my duty belt every time I get out of my police car. The joys of not having a butt. The Tacplates work very well at keeping my duty belt in place. My uniform looks the same at the end of my 10 hour shift as it did at the start.
Since I have owned the Tacplates during the last 3 months I have worn my duty belt 2-3 times without the Tacplates. I wore my duty belt without TacPlates one shift (10 hours) plus 6 hours off duty right afterwards. At the end of my 16 hour shifts my hips hurt so bad from having to wear my duty belt so tight to keep everything in place. Another time I wore my duty belt without the Tacplates I didn't wear my belt as tight, I was consistently having to pull my duty belt up and re-tuck my shirt in after getting in and out of my patrol car.
I have had a couple of officers I work with ask me about them. For the most part they are not that noticeable. If you look hard you can see them. However they still look professional. The Tacplates are nice because they don't require any readjusting of your equipment. You can wear all equipment in the same place and way you wore them before. Although $170.00 may seem a little expensive, the Tacplates are worth every penny. I would, and have recommended Tacplates to several officers."
- Tom, KCPD
"I had lower back pain. With that [the TacPlates], it seemed to distribute the weight better and I didn't have any impediment as far as movement. I was comfortable."
-
Pablo, SCSO

"It feels like I am not even wearing my belt."
- Jeff, MPPD
"I was impressed with the initial feel. They took the pressure off my waist, hip and lower back. The best is that so far I feel better than I have in 6 years wearing the duty belt. No hip swelling/pain and no nerve pain."
-
Eric, MCSO
Want to share your TacPlates story? Have some feedback? Email us:
feedback@atlaslbe.com
.