SAFARILAND® Combines New Ultra-Concealable Holsters With The ALS™ Automatic Locking Systems And Low Price Points
---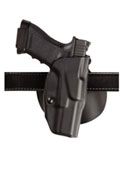 Ontario, CA. – Safariland, one of the world's largest suppliers of holsters and duty gear, today announces the introduction of two new IDPA approved concealment holsters that ride extremely close to the body, feature Safariland's Automatic Locking System (ALS™) and are available to the market at a very competitive price point.  The new holsters, Model 6377 ALS Belt Holster and Model 6378 ALS Paddle Holster, both employ the all-new patent pending Safariland Automatic Locking System and are constructed of genuine SAFARI-LAMINATE™.
The Model 6377 ALS™ Belt Holster is worn on the belt, features a semi-hi-ride position and a slightly forward weapon cant, and can also be worn in crossdraw mode.  This model features an all-new injection molded belt loop that allows for multiple carry angles and varied belt widths.  Offered in two sizes, it fits 1.5", 1.75", 2", and 2.25" width belts, and 2.25" belts only.
The Model 6378 ALS™ Paddle Holster features an all-new ergonomically designed injection molded paddle that is highly concealable and rides close to the body with a slightly forward weapon cant. 
With both holsters, once the weapon is holstered, it automatically "locks" into place providing additional security from typical open-top holsters.  Unlike holsters that may use the trigger or other finger to deactivate the locking mechanism, the Safariland ALS™ holsters feature a natural thumb operation and have a simple straight draw, making them very instinctive to use.
Additionally, both holster models feature suede lining to help protect weapon sights and finish, and the SAFARI-LAMINATE™ structure with wraparound design provides the strongest design combinations available.  Both holster models are approved for use in IDPA matches.
The Model 6377 ALS™ Belt Holster and Model 6378 ALS™ Paddle Holster are offered in STX Plain Black or Carbon Fiber Look with an MSRP of $40 and $45 respectively for STX Plain and $50 and $55 for Carbon Fiber Look. For additional fit and finish information, please visit www.safariland.com.
About Safariland®
With an industry reputation for "Innovation Not Imitation," Safariland has earned worldwide renown and a leadership position in the industry for its holsters and duty gear accessories for law enforcement, military and sporting good markets.  Safariland is part of the Armor Holdings Products Group, a business segment of Armor Holdings, Inc.  For more information visit www.safariland.com.
About Armor Holdings
Armor Holdings, Inc. (NYSE: AH) is a diversified manufacturer of branded products for the military, law enforcement and personnel safety markets.  Additional information about the Company can be found at www.armorholdings.com.