SHOT Show: ASP Ultra light-weight handcuffs
---
At this year's SHOT Show, ASP — makers of a number of a variety of high-quality law enforcement products — announced the release of a new, light-weight handcuff called the "Ultra."
The handcuff incorporates innovative, proprietary technology that Gary Salter, the company's Marketing Director, believes will make the new handcuff a desirable alternative to law enforcement professionals that are tired of the additional weight of their current handcuffs. The cuffs are approximately 30 percent lighter than regular handcuffs.
The aluminum frame handcuffs are made with either a steel or aluminum (an even lighter version) bow, which has small, flat ridges along the edge that allow for improved purchase on a subject's wrists when applying the cuffs. The bow's smooth, flat contact surface also decreases the application sting associated with other handcuffs.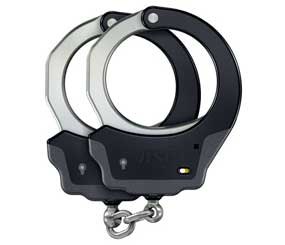 The steel bow handcuffs are readily identifiable because of the silver bow. The bow on the aluminum cuffs is all black.
ASP has reinforced the swivel and than applied a hard-coat anodized, matte black finish.
The Ultra also has interchangeable lock sets, available in one, two and three pawl designs. Each is color-coded: yellow for tactical, blue for security, and green meet European standards. A red, training model is also available.
The Ultra also has two-sided access to the keyway and double-lock slot, making double locking and removal easier.
The Ultra also offers three additional options: chain, hinge, and rigid. The tactical handcuffs with the steel bow are expected to retail for around $40.00, while the aluminum bow cuffs will retail for around $51.00.
The company's initial production will be for 75,000 units, with availability expected to be this summer.

Request product info from top Police Restraints companies
Thank You!