Product Review: Lone Wolf Distributors' .40 S&W to .357 SIG conversion barrel
If you or your agency needs a drop in upgrade, Lone Wolf Distributors has your product
---
I recently tested a .40 S&W to .357 SIG conversion barrel from Lone Wolf Distributors on my Gen 2 Glock 22. Lone Wolf Distributors make several barrel options for Glock handguns, including threaded models (for suppressor use), extended length barrels, and models with compensator cuts.
The model I tested here was a standard drop in design that allows a user to convert from one caliber to another without any modification or fitting. Lone Wolf has products that fit all generations of Glock. In fact, they are known as the worlds largest distributers of Glock accessories.
For some Critical Response teams, the .357 SIG may be a better choice for team members. The increased speed on failure drills (failure to stop drill, body armor drill) is the biggest selling point for me. The bullet is lighter, with a higher velocity. The felt recoil is somewhat reduced, allowing quicker recovery between shots.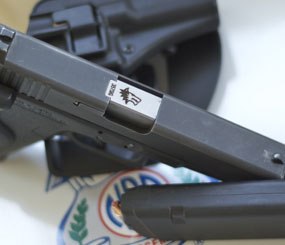 The second reason I like .357 SIG is the bottleneck design. The 9mm sized bullet and case mouth feeds into a .40 caliber hole, theoretically increasing feeding reliability. Not related to law enforcement: As a reloader, I like the challenge, and the fact that they have standard rifling, which allows me to pour my own lead bullets. If anyone wishes to send me brass, feel free.
Before we stir up the "small and fast" crowd against the "big and slow" crowd again, I am heating up water for my ballistic gelatin as we speak. I have tested the 40 against the .357 quite a bit actually in terminal ballistic tests. I just can't find a significant advantage other than faster shot strings. Both exceed what we want cartridges to do by a huge margin. In case any has forgotten, the three rules for cartridge performance are summed up in:
• Shot placement
• Shot placement and
• Shot placement
Things are looking even better, now that I am testing the new Hornady Critical Defense cartridges. The 115gr .357 SIG Hornady FTX Critical Defense cartridges I shot this past week averaged 1570 fps with a very low standard deviation. I can't comment on its performance at this time, but it is promising. It has a fairly low flash at night, which should also be of interest for Law Enforcement.
There are many reasons why an officer would do a caliber conversion on his firearm. If the agency changed calibers but allowed individual officer purchase by policy, the officer who owns his duty gun may need to switch calibers.
The simplest reason to convert from .40 S&W to .357 SIG is the same reason I like .357 SIG: I can shoot it faster with similar or improved accuracy. Most people can because it is a lighter bullet traveling at a much faster velocity. This is a consideration in an urban or built up area where most
Using the Lone Wolf barrel, it took me about 25 seconds to swap out the barrel. It takes the same magazines and recoil spring in this switch. Other caliber conversions may take a recoil spring and new magazines, but .357 SIG and .40 S&W are a straight swap.
Lone Wolf Distributors are known for their barrels, but they offer slides and other accessories also. They have a reputation for attention to detail in their precision machining and the barrel I tested was beautifully finished and was a fine example.
Lone Wolf makes two different versions of this barrel, one with a prominent logo, the other "blind marked". They also offer a black oxide finish for an extra fee. All models are in heat treated 416 stainless. I picked the logo barrel, but I bet many agencies will use the blind marked ones.
I ran some bullets through my Oehler 35P Chronograph. Since I only ran a dozen cartridges over the screens, I have to call this a preliminary test. However, the numbers suggest that Hornady's published chronograph results are a bit conservative.
The drop in barrel did not change the point of aim. In fact, I delivered several sub 3" groups at 25 yards. My Glock soaked up the recoil of the 115 grain bullets, allowing me to fire some fairly smooth shot strings.
If you or your agency needs a drop in upgrade, Lone Wolf Distributors has your product. 

Request product info from top Police Firearm Accessories companies
Thank You!