Product Review: Leupold VX-R Patrol
Most law enforcement optics don't really stand out — the Leupold VX-R Patrol does
---
I recently tested the Leupold VX-R Patrol riflescope, which was designed for fast target acquisition and enough flexibility to give the officer a scope that will work for most patrol applications.
I get to test a lot of law enforcement optics. Most of them are high quality. They have to be, considering the abuse for which they are designed. Most of them don't really stand out. The Leupold VX-R Patrol does.
The VX-R Patrol is a 30mm main tube low magnification scope that uses Leupolds twin bias erector system and 1/4 MOA click adjustments for accuracy. This a pretty fine adjustment for a carbine, which often gets 1/2 MOA adjustments.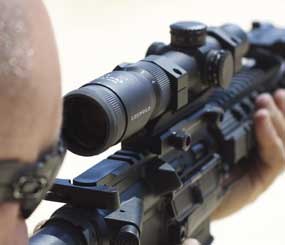 Two Versions
The VX-R Patrol comes in two versions, a 1.25-4x20 FireDot Special Purpose Reticle and the 3-9x40 with a FireDot TMR (Tactical Milling Reticle). I picked the 1.25-4x20 SPR because the magnification and field of view is appropriate for a large percentage of patrol applications. For example, an officer could turn the power to its lowest setting and use it during a close-quarters entry. Crank it up to 4x and the AR-15 VX-R combination allows some standoff distance between the officer and a barricaded subject.
The reticle is a crosshair with a center circle setup with mil ticks and thicker posts outside the center of the image. This kind of reticle allows for quick target acquisition because the image is simple while giving the shooter a reliable sighting standard at longer distances. I understand that this product can be ordered with the CM-R² reticle also, but I would pick the SPR here.
The most profound feature of the scope is the FireDot center illumination. This is an advanced fiber optic feature that puts a bright red dot in the center of the crosshairs. It worked in daylight and twilight. There wasn't any bleed over on the image and the crispness of the reticle never wavered, even when making focusing or power adjustments.
This isn't as simple as it looks. Many other manufacturers have optics that use an illuminated aiming point. Cheaper ones are obviously inferior when one cranks up the power. There is usually a discernible halo or a distortion in the shape of the dot. The Leupold VX-R Patrol reticle had edge-to-edge usability on the reticle.
The FireDot uses a CR 2032 cell inside a protrusion that looks like a third turret on the left side. One presses the silent switch in the center to turn it on and adjust the illumination. After the initial adjustment, it goes into standby when the scope is still for a while. When it is moved, it returns to the user's setting. There is no lag time in the motion detection so if I didn't tell you, you wouldn't know, except it would seem that the scope got a lot of life from one cell.
I found that the image in this scope gave my vision an easy-to-acquire reference, allowing for quick identify-and-shoot shot strings and accurate deliberate sessions using the same setup. We used some known standards:
1.) A Holding and Kaufmann Ironworks (www.hkironworks.com) upper, with which I can crank out 1 hole groups all day long, followed by run-and-shoot double taps with zero failures. HKI is a manufacturer near my testing range. This is pretty convenient for me. I test a lot of uppers and this one outshoots most of the custom products out there.
2.) Winchester Ballistic Silvertip cartridges. I've just begun to use these polycarbonate tipped bullets and they work for me. This particular cartridge, though not necessarily a law enforcement cartridge (SBST223), runs at a pretty high velocity with low recoil.
3.) My friend Max Messina from Oakdale (Calif.) PD is a known standard because he shoots carbines much better than I do. I value his opinions on range equipment because when he helps test things, he really puts them to work.
4.) Leupold's new Integral Mounting System. This is a one piece, rail mount system that uses torx screws and beefy rings with 1/2 inch keeper nuts to set the scope. This takes most of the guesswork out of figuring out eye relief and leveling. I found I could mount the scope on the mount, then mount the assembly on the carbine. I was able to dismount this rig, re-mount it and shoot the same "sight in". It is such a solid set up, I would consider abandoning standard mounts and going with this on my currently mounted scopes. I would only add one thing: Torque limiting keeper nuts. You know... the kind that can't be over tightened.
Leupold uses blackened lens edges in this scope, which reduces spurious reflections in the tube. Their DiamondCoat coating also adds to the light transmission and abrasion resistance. Having subjected another test scope to some abuse to test the DiamondCoat feature, I can testify to its resistance to user errors like not blowing the dust off the lens before cleaning it in a dusty environment.
True Colors
I could tell you that the scope is bright and clear, but that is not really quantifiable. Using my optical test patterns, it rendered true colors, which looked isn't a surprise. My greatest treat was putting this scope on my optical test patterns and finding that it resolved horizontal and vertical grids edge to edge at a better level as most of the optics I had on hand. One other neat thing: This scope has a one-turn focus adjustment for the eyepiece. I have one of those complicated prescriptions on my glasses. I could quickly adjust this to work for me, glasses on or off.
How did it shoot? First, 1.25 magnification is close enough to 1.0 for a shooter to use occluded eye techniques, the same way one would use a non magnified optic. I found that I could crank it down and shoot with both eyes open. No part of the scope body got in the way, and the image was continuous. Maybe Leupold got some input from the 3 Gunners here. My only wish was that the reticle be placed in the first focal plane, which means that its size would remain consistent with the variable power.
The 4 Power setting gave the scope some reach, and its resolving ability allows it to outclass many other short tube products. I have a friend who serves as a deputy in a very rural area and he asked me if there is a product out there that could be used in the patrol car and as an interdiction tool for well armed, well emplaced growers in the high country. This is the product, especially with the new waterproofing/anti fog design. This scope allows for target and mission transition.
The VX-R Patrol in 1.25-4x20mm is the closest thing to a patrol scope that will do it all. Folks, this is an easy one to swear in for duty.

Request product info from top Police Sights and Scopes companies
Thank You!